President Pierre Nkurunziza's second term, which will end today (Wednesday 26 August) at midnight, could leave a political vacuum that may push armed groups to wage war against his new government, Burundi's opposition alliance has warned.
Nkurunziza was unexpectedly inaugurated on Thursday for a third term in office, but, according to the Council for the Observance of the Constitution, Human Rights and the Arusha Peace Accord (CNARED), an alliance-in-exile of several opposition movements, his re-election violates a constitutional limit of two terms for president. His second term in office ends on 26 August.
On Tuesday, Nkurunziza appointed his 20-strong government, which includes five members from the opposition, including Agathon Rwasa.
Burundi's 'constitutional vacuum'
"Today at midnight, the CNARED will consider that there is no longer a president," the coalition's spokesman Jeremie Minani told IBTimes UK. "That means there will be a constitutional vacuum to which the Burundian people have to find a solution, through transitional institutions, which will help us organise elections, or through strength."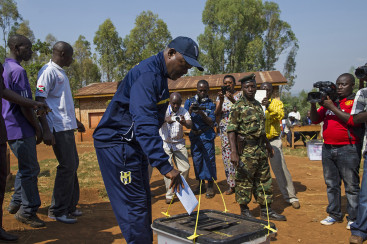 Because Burundi has reached this highly symbolic date, Minani explained the CNARED has been asking the international community to reject Nkurunziza's new government and refuse to conduct any business with it.
"We must absolutely reinforce the economic blockade in Burundi and international lenders should refuse to disburse even $1 for this putschist government. This is an absolute arm for a government which relies on international aid for 52% of its budget," he explained.
CNARED: pushing for negotiations
The CNARED has been pushing for negotiations between the alliance, civil society representatives and the government, and maintains that if parties are unable to reach an agreement, the coalition could decide to set up transitional institutions that would exclude the ruling CNDD-FDD party.
"In the opposition, we are already positioning ourselves and waiting to see if negotiations result in a peaceful solution, otherwise we will use force to chase Pierre Nkurunziza. This is our necessity," Minani said.
"It is critical that the negotiations take place, either between a putshist government or a legitimate one it makes no difference. These negotiations need to result in a transitional government that would avoid a civil war."
In July, Nkurunziza's adviser told Reuters the president was ready to form a united government –but added that should Nkurunziza be elected, he would stay in power for a whole five-year-long mandate.
Preparing for war
If the government refuses the negotiations, however, Minani explained it would be "absolutely necessary that we use strength because we will not accept to see our citizens being butchered, imprisoned or tortured".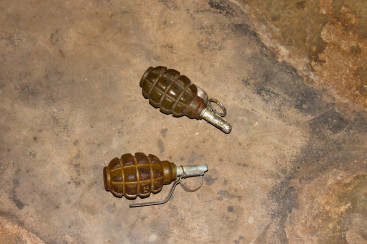 "We have many armed groups who are trying to set themselves up, we have army generals on the run who are organising themselves militarily and who are still threatening to start the war... We have always tried to persuade them to not start anything like that, but a failure of the negotiations is going to push all these armed groups to ignite war," the spokesman said.
The CNARED claims it is fearful that, if the idea of dialogue fades away, it may no longer be able to persuade these groups that war can be avoided.
"Will it be a coup d'état? That possibility is not excluded. Will the military attack the country? We don't know. But what is certain is that in the sub-region, groups are getting organised in order to prepare themselves for a potential war."
Earlier this month, dissidents told IBTimes UK they were ready for war, having stockpiled £4 grenades and £40 Kalashnikovs.
Burundians growing desperate
However, Aadil, a resident of Buyenzi, told IBTimes UK that the date of the 26 August "didn't represent anything" for members of his community.
"The 26th, for me, means the end of the President Nkurunziza's mandate, but the fact that today is the 26th and that he is still in power is beyond me. We have lost our points of reference," he said in a telephone interview.
According to Aadil (not his real name), people are growing desperate and "are just waiting to see what will happen next". Meanwhile, the embassies of France and Belgium on 26 August called for vigilance in a series of security announcements.
"[Considering] that the date of August 26th remains highly symbolic for the Burundians, it is recommended to be particularly vigilant today, and if possible, to avoid all movements," one of the statements read.
Burundi up close: Check out our Flipboard magazine