Former US presidents George H.W. Bush and George W. Bush have released a joint statement condemning "racial bigotry" in the wake of the bloody white supremacist rally in Charlottesville. The comments mark an unprecedented swipe at Donald Trump.
Their words break with an unwritten rule of former presidents not commenting on the deeds of their successors.
George W Bush never commented on Barack Obama's premiership and so far Obama has not directly criticised Trump for his handling of the weekend's events, which led to the death of a woman.
In a statement, published on Twitter by ABC, the Bushes invoked the Declaration of Independence and, in particular, Thomas Jefferson, Charlottesville's most famous son.
On Saturday (12 August), far-right activists and counter protesters clashed in Charlottesville.
A female protester, Heather Heyer, belonging to the latter group, was killed when a car intentionally rammed into a crowd.
James Alex Fields, 20, is in custody for allegedly driving the vehicle into the group. Some 19 others were injured.
Trump initially blamed "many sides" for the attack before appearing to reverse his stance on Monday, when he explicitly condemned the KKK, white supremacists and neo-Nazis.
However, those words were undone on Tuesday when he then said: "You had a group on the other side that came charging in without a permit and they were very, very violent."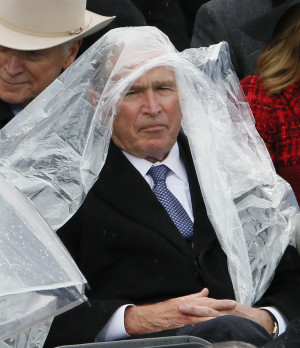 The Bushes said: "America must always reject racial bigotry, anti-Semitism, and hatred in all forms.
"As we pray for Charlottesville, we are reminded of the fundamental truths recorded by that city's most prominent citizen in the Declaration of Independence: we are all created equal and endowed by our Creator with unalienable rights.
"We know these truths to be everlasting because we have seen the decency and greatness of our country.
Celebrities and public figures took to Twitter to urge other Republicans and former presidents to form a united front in opposition to Trump's apparent unwillingness to challenge the resurgent far-right, which is highly supportive of his presidency.
The Bushes have now added their voices to those of several other Republican politicians, both retired and serving, clearly displeased with the president's handling of the situation.
House Speaker Paul Ryan said "white supremacy is repulsive" in a tweet, adding: "This bigotry is counter to all this country stands for. There can be no moral ambiguity."
The events in Charlottesville have provided yet another defining moment in the still nascent Trump presidency.
However, while issues such as North Korea and the alleged Russian connections to his administration have also called into question his judgement, the recent events have brought America's racial divisions to the fore.
With the KKK planning more white nationalist events and promising more violence, the tinderbox that is contemporary America shows little sign of cooling.