Sitting slouched against a metal barrier at a roundabout in the Calais twilight, well within sight of the illuminated fences marking the entrance to the Eurotunnel, Eritrean migrant Gebre waits to see if tonight he will make it to Britain. A 30-year-old English teacher, he has a journey of over 5,000 miles behind him. He has crossed the Sahara and the Mediterranean and now after a year of travelling, Britain is just 20 miles away. "Today, I don't think there is a chance to make it across because there are more police and they are strongly in control," he told IBTimes UK.
The migrant population of Calais has been left dejected after the arrival of 125 French riot police to bolster security at the Eurotunnel at the end of July. The reinforcements sent by the French ministry of interior in response to the crisis has made their lives harder but it has not weakened their resolve.
For Gebre, the promise of Britain is more than asylum, a good job and freedom: it is the chance to see his wife who has already been given refugee status and who he has been parted from for years.
"My wife is there in Britain so I don't have another choice to stay in another country. My wife is there and I haven't see her for four years," he explained. The chance to enter Britain illegally either by train or by stowing away in a lorry to board a ferry is one that he is willing to die for, and one for which he has already nearly died a number of times.
"From Sudan to Libya, most of our friends died there. There are accidents that happen in the desert," he explained. "It is so hard. To hear it is simple 'he came from Eritrea' but if you saw it, from the time we started it takes several days to enter Sudan on foot, then to Libya from the deserts."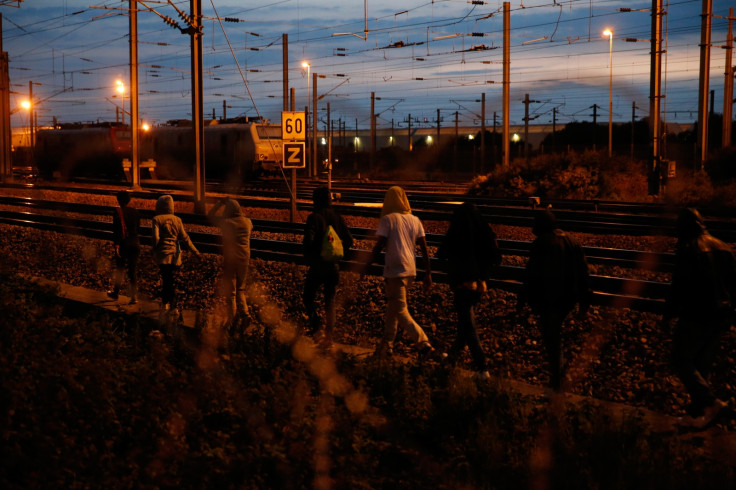 Gebre was plucked from the Mediterranean by the Spanish navy, when, after three days crammed on a migrant boat to Europe, his vessel began to sink. The prospect he would stop now in France to save his life is easily shrugged off. "It is the same for us if you die or if you are alive because from the first time it is difficult. We don't know freedom, we don't know anything about freedom," he explained.
Harrowing tales of migrant woes
Gebre's feelings are echoed across the highways and marshes that stand between the Jungle, several hundred scattered tents and dwellings that the migrants call home, and the Eurotunnel terminal. The deaths of nine migrants, killed while trying to enter the UK in the past two months are well known.
"Everyday one can die, every day. Everyday one or two can die from Sudan, from Ethiopia, from Afghanistan from Syria, every day. It is dangerous but what can we do?" Salah, a 25-year-old Migrant from Sudan explained.
As the day turns to night in the Jungle, the business of the day for the migrants begins. Some left the camp early to doze beneath trees before the night's events. Others buoyed themselves with alcohol and sang songs.
By 10pm, the hundreds who will try their chances at entering the Eurotunnel were out and testing the police's first lines. The migrants engage officers in game of cat and mouse, pushing forward in one area when security forces move to another.
There were cries of jubilation when a Eurotunnel train, with its distinctive carriages and halogen-lit windows, came thundering past and some groups would run towards police lines before turning away at the last minute in hopes of freeing space for others to make it through.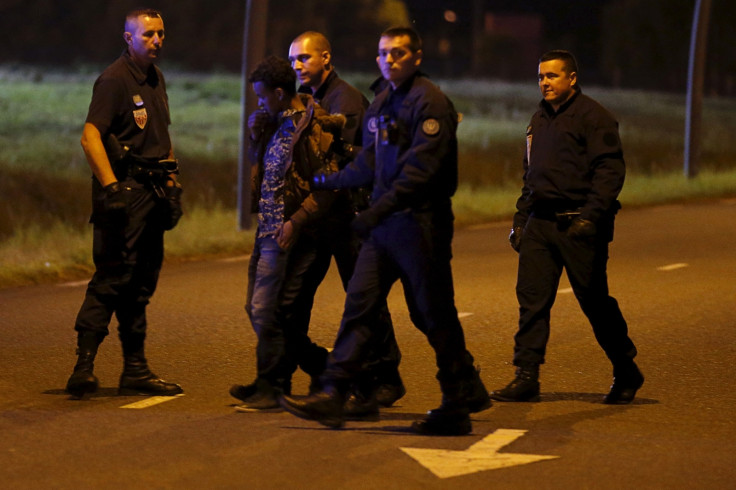 But there was also desperation. One woman from Sub-Saharan Africa carried a small child on her back, concealed by a grey woollen jumper. Some, not happy with the odds, walked home when the saw the police were out in force again with truncheons, riot shields and pepper spray.
The increased security response by Britain and France following a swell in the number of migrants attempting to gain access particularly to the Calais Eurostar Terminal has had the effect of making the attempts to cross more dangerous, according to activists working in the Jungle.
"The fences are getting higher, more numerous and longer and that is tremendously increasing the risk that the refugees take to cross," Maya Konforti, from humanitarian group L'Auberge des Migrants, told IBTimes UK. "The police are like any group of people. There are some that are relatively compassionate or have good feelings towards those people and there are some that get really nasty, impatient."
Konforti, who has spent years helping migrants in Calais, said individuals were most at risk of being injured or killed by passing traffic after they had been in confrontations with the police but that in the end, one way or another, most make it to the UK if that is their goal.
"Most people succeed," she said. "Some succeed in one week, some take months. I would say the average stay here for people who are really intent on going to the UK is about three or four months."
'We have so many problems, this is not life'
Some in the Jungle are motivated by their desire to move the camp as much as they want to go to Britain. For Eskinder, a Christian Ethiopian who lives near to the Jungle's single church, the conditions are too much too bear.
"This is not for human beings, this place. Where I am sleeping, you cannot call this a house. You cannot control the rain, also you cannot control the sun and you cannot control the wind," he said. "When it is bedtime, when the weather is hot, you cannot sleep inside. At the same time when it is raining or it is windy you cannot sleep there because you don't have any material and the tents are weak. We have so many problems, this is not life."
As the transient population of the Jungle increases, it is attracting the attention of more international agencies, beyond the smaller associations that have tried to alleviate the situation of inhabitants so far. In the past year, the migrant population at the camp has grown from 1,000 to 5,000 at its peak.
The UN High Commission for Refugees has taken increased interest in the migrant camp, as it has been stepping up its operations across Europe in the wake of higher numbers of migrants arriving in Italy and Greece from Sub-Saharan Africa and the Middle East.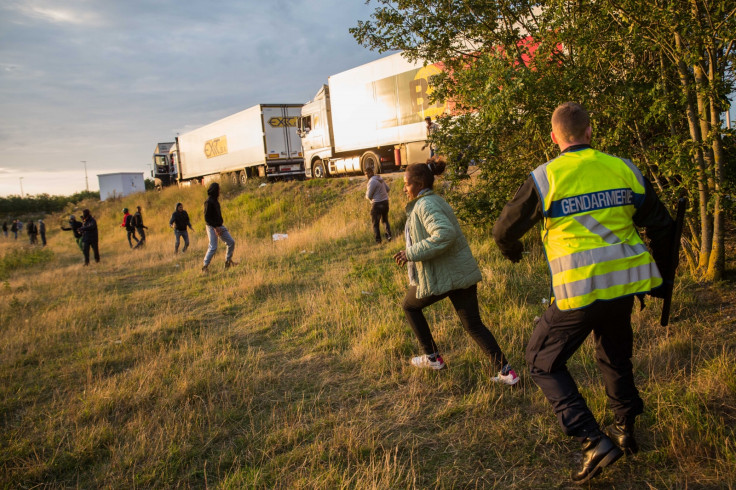 Celine Schmitt, a spokeswoman for UNHCR, told IBTimes UK more needed to be done to help refugees arriving in Europe and the problem required a Europe-wide response. She said: "What we have realised lately is that many of the people who are making their way to Calais and are here are refugees and they are in need of international protection. They flee countries where there is conflict, violence and war, or the flee persecution.
"We advised the EU countries and we still tell them that they should work in coordination together to find solutions for the problem. We have teams in Greece in Italy, to work with the actors there, also to find solutions and give advice."
With the 5,000 migrants in Calais representing 5% of the total that have arrived in Europe in 2015, it is clear the issue is part of a wider problem. With the doors to Britain better held shut by security measures adopted on both sides of the Channel, fewer migrants are making it to the UK – but the Jungle is filling up again.
Some of the names of migrants in this report have been changed to protect their identities.