Calais Jungle: £17m of UK cash to help relocate migrants to new French camps or send them home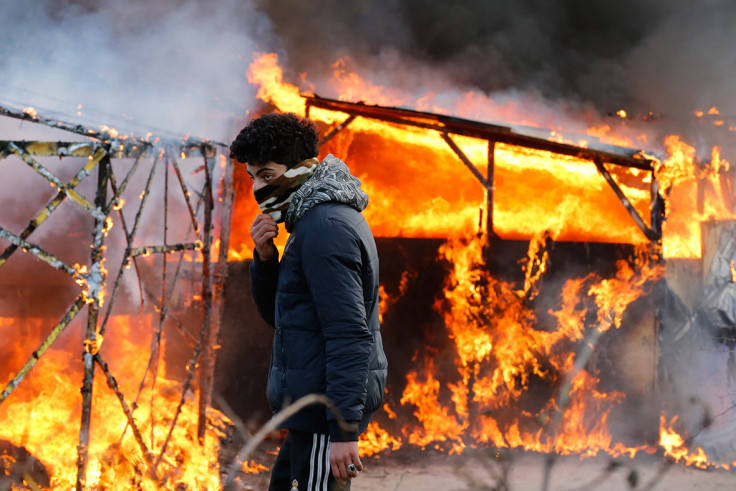 British Prime Minister David Cameron has revealed that the UK will spend £17m to relocate and send home migrants living in the so-called Calais Jungle. The Tory MP and French President Francois Hollande held a joint news conference at the end of a French - UK summit where the pair agreed to work together to solve the controversial issue of homeless migrants living in the French port.
The fund will also include money to be spent on enhanced security in the town in an effort to stop migrants attempting to stowaway on ships, lorries and cars. The announcement comes as France's economy minister Emmanuel Macron warned that the Jungle could be moved to Kent if the UK did leave the EU.
The notorious camp has become home to thousands of migrants from mainly African and the Middle East wanting to get to the UK. In the past few days more than a dozen humanitarian organisations accused French authorities of brutally evicting refugees from the camp as it demolished many of the makeshift homes.
Many migrants staged a sit-in protest with many setting their shelters alight while others, including activists threw stones at riot police in an attempt to disrupt the continuing demolition work that will affect at least 1,000 people. The camp, which saw its numbers swell to more than 5,000 people in the summer of 2015, has been gradually cleared by a third over the past month.
Speaking at a joint news conference Cameron said according to Sky News: "The money will go towards efforts to move people from the camps in Calais to facilities elsewhere in France and we will fund joint work to return migrants not in need of protection to their home countries."
Speaking in an interview with the Financial Times Macron said Britain's relationship with France, including the bilateral Le Touquet agreement which places refugees and migrants on the French side of the border could collapse in the event of a Brexit. He said: "The day this relationship unravels, migrants will no longer be in Calais."
Hollande told the press conference after the Anglo-French summit that there would be "consequences in many areas" if Great Britain was to leave the EU.
He said: "The (French) Home Office minister has established centres that are at the disposal of these people and he has ensured that ... these people can be placed somewhere in the warm, in good conditions and hopefully (be) integrated into our country. With regard to the people who absolutely want to go to the UK, as soon as the UK has decided not to accept these people ... the access will be closed."
© Copyright IBTimes 2023. All rights reserved.