A video has been released showing the moment a pregnant woman was beaten down and forcibly evicted from her home in one of the Calais migrant camps as French police began to remove migrants from the so-called "Jungle" on 1 March.
The amateur footage shows a married Kurdish-Iranian couple, Eghbal and his pregnant wife Nages, standing on the roof of their home as police move in. They proceed to clamber on to the roof, where onlookers cry out in horror as police use their batons to knock down the two to the ground and arrest them.
Annie Gavrilescu, a volunteer at the migrant camp who filmed the incident, described what she saw: "The couple had been on the roof since before last night and that is one of the reasons why their home was one of the only ones to have been spared.
"But the police turned up this morning with 27 police vans, two water canons, and a mobile detention centre. They saw the home then and immediately went towards it and got on the roof. As you can see [from the video] they pretty much beat them down," she said.
"Egbah was trying to tell them 'we're a married family, she's pregnant, leave us in our home'. But they took them down anyway. There was not a dry eye in the house. Everyone was crying and shouting 'no'. Even the police couldn't look at us as they did this," added Gavrilescu.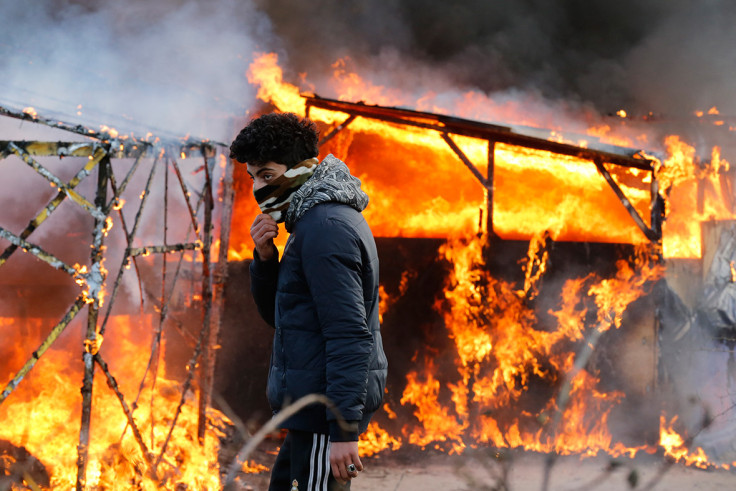 Nages, who Gavrilescu states is 4-5 months pregnant, can be seen in the video at one point to be making a wrist-slitting gesture as the police climb onto the roof of their home. Gavrilescu noted that the couple, "had said before that they would rather kill themselves than be moved from their home, be displaced again".
Violent clashes broke out in Calais overnight on 1 March as police fired tear gas at migrants who in turn were throwing stones at demolition squads. Police have begun demolishing homes in the camps as migrants are being asked to move to shipping containers on another part of the site, a move which many fear will lead to them claiming asylum in France and not being able to travel to the UK.
"It's complete destruction," said Gavrilescu. "I have never seen people so desolate. The only thing they ask us is 'Jungle over?'. They seem resigned to their fate."
On 25 February, the French government was given the go-ahead by a court in Lille to clear the Jungle migrant camp near the port of Calais. Authorities imposed a deadline on the 3,000–5,000 migrants from across the Middle East, Asia and Africa to vacate the camp on 23 February; however, a challenge to the order postponed the ultimatum.