Calais 'jungle' refugees evacuated as France prepares to demolish camp
The evacuation of thousands of refugees is expected to take about a week.
French authorities have begun evicting refugees from the Calais "Jungle" camp following tense clashes with migrants on Saturday (22 October) and Sunday (23 October). Refugees have been given two options: either seek asylum in France or return to their home countries.
The evacuation of an estimated 6,900 refugees, including 1,200 children, is expected to take about a week, according to Voice of America. Although refugees will be offered placements in centres across France, there are concerns that some will refuse to leave the camp in order to make it to the UK.
"I try to stay in England but I don't have money to go in England or to stay in France. I think it is so hard for me, it is not easy..." a Sudanese refugee told CNN. "Only God can help me right now."
The UK has begun accepting some of the unaccompanied minors living in the camp, Voice of America reported.
"We have conducted 600 interviews in all, and this week 194 minors will have left Calais for Britain," Pierre Henry, head of France Terre d'Asile (FTDA), said. The Home Office announced on Sunday (23 October) that a first group of 70 children had arrived in the country.
According to CNN, clashes erupted on Saturday night between refugees and police, with a number of buildings destroyed by fire. On Sunday, vans of riot police, armed with tear gas, arrived at the camp.
Migrants reportedly gathered around small fires on the outskirts of the camp and began tormenting police. CNN reported at least six small fires were seen within the camp and its surroundings.
A spokesman for the Interior Ministry confirmed that more than 1,000 riot police officers were deployed ahead of the camp closure. The ministry confirmed that they plan to completely demolish the camp by December of this year.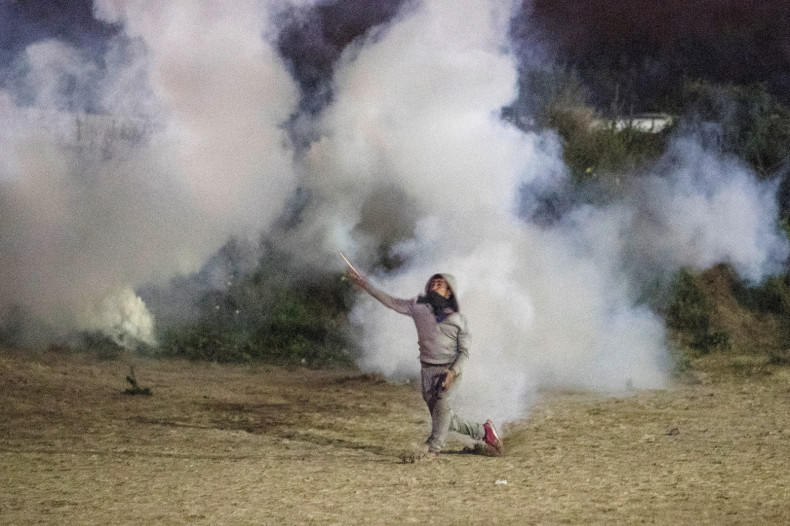 Authorities will begin processing refugees on a first-come, first-serve basis starting on Monday (24 October). A letter given to camp residents on Sunday ordered them to make their way to a reception point to be placed on buses.
"Everybody living in the Calais jungle will have to leave in order to be sheltered in one of the French reception and counselling centres," the letter read.
CNN reported that refugees who choose to apply for asylum will be given the choice of two French regions. They will then be transported to their location of choice by bus, almost immediately. Those who choose to go home will be transported by plane.
An estimated 145 buses will be deployed to the camp in the course of three-day evacuations, Voice of America reported.