An estimated 6,000 vehicles are currently parked along the coast-bound stretch of the M20 in Kent, forming a long line of lorries that seemingly never ends. In recent weeks southern England's main motorway has been brought to a standstill. The reason? A procedure called Operation Stack.
It's been used by police since 1996 whenever there is disruption to channel crossings. But the current tunnel disruption caused by the migrant crisis in Calais has seen the road closed for a longer period than ever before, as Operation Stack has been implemented 25 times in the past six weeks.
Traders in Kent are now reporting huge falls in customers as Operation Stack causes queues of traffic outside their businesses. Flower seller Theresa Whitehad says that her shop is struggling to receive supplies.
"This has been going on for a long time now and I can't remember how many times Operation Stack has been brought in this month but it's getting to be a joke now. It's affecting everybody and when you are a very small business you're relying on your local customers and your suppliers. We've got two local suppliers who are fine, they don't let us down, but unfortunately the Dutch supplier just can't get through," adds Whitehad.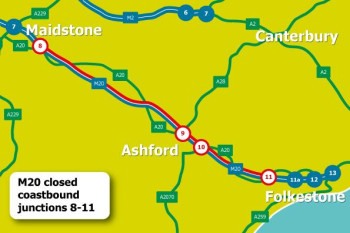 It's not just local businesses that are suffering. According to the Freight Transport Association the operation is costing haulage companies caught up in the chaos £700,000 ($1.1m, €988,000) a day and £250m to the UK economy as a whole.
But what is the solution? The FTA suggested a contraflow system to allow traffic to keep going in both directions along the M20. But this was dismissed by Highways England as an unacceptable risk to road safety.
Instead, the Ministry of Defence has announced that land around Folkestone will be as a temporary parking space. These plans will see the army work alongside Kent police, according to The Independent.
But as the situation in Calais continues to worsen, it remains to be seen if this will be enough to alleviate congestion in Kent and the strain Operation Stack is putting on local businesses.