The knock-on effects of the Calais migrant crisis is costing the local Kent economy millions of pounds, a local business leader has said.
Jo James, the chief executive of the Kent Chamber of Commerce told IBTimes UK that the true cost of the migrant crisis to the South East could not be truly known but estimated it to be "several millions".
"It is not a new problem." she said. "The impact of this on local residents and businesses is severe. The unacceptable travel times are a huge cost to local businesses."
Severe delays, caused by policing measures in reaction to the migrant crisis, have often brought the southern county to a standstill.
Operation Stack has seen Kent police close the M20 coast-bound between Junctions 8 and 11 to allow lorries to queue when channel crossing services are delayed, tripling journey times to the coast. Its effect has had a knock-on effect to roads around the A20 too.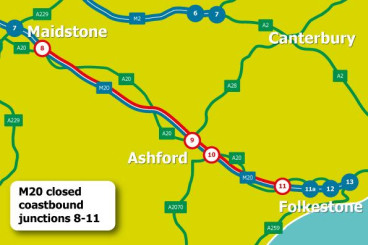 James explained: "Operation Stack is a symptom and the cause is what's happening over in Calais.
"Every time it is introduced the M20 is turned into a huge lorry park with all non-freight traffic having to use other routes."
She said the traffic chaos affected all businesses in the area but particularly haulage companies, coach operators and delivery services had been hit by the delays. James added that produce grown in Kent was also affected because of its short shelf-live.
Quoting Freight Transport Association (FTA) numbers James said the cost of the migrant crisis to haulage firms is about £700,000 a day and about £250m to the UK economy. She said the French and British governments needed to resolve the crisis as quickly as possible to mitigate the effect particularly on small local businesses.
"This has been going on for so long now that it could start to threaten the viability of particularly small businesses," she explained.
David Cameron is to chair a meeting of the emergency Cobra committee today (31 July) as the Calais migrant crisis continues to cause disruption to tourists and trade across the English Channel.
More about Calais: