Video footage has been released showing the moment police used tear gas on migrants to clear refugee camps in Calais. In a series of dawn raids on 22 September, French police used CS gas, violence and a 10-tonne Volvo bulldozer to evict migrants and destroy shelters created by 350 mostly Syrian refugees in four separate camps across Calais.
The footage of the raids shows police with shields raised retreat from a camp as tear gas is hurled into the cluster of ramshackle tents. People can then be seen running away and yelling from the thick cloud of smoke created by the CS gas. One of the refugees, blinded by the attack, moans on the ground as water is rubbed into his eyes.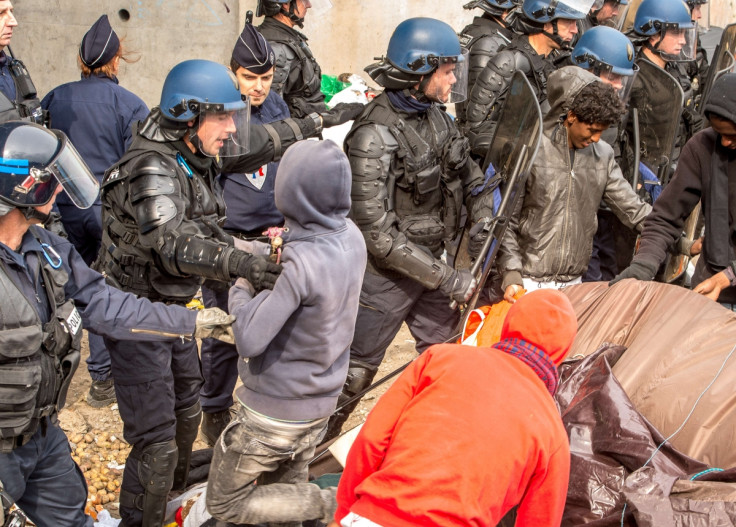 Care4Calais, a volunteer campaign looking after refugees in the area, posted the videos to Facebook with this message:
"This morning the police forcibly removed the people camping in Calais in the overflow from the jungle. Then they came to the jungle and bulldozed the tents that have spilled out of the camp due to lack of room. There was no warning and they barricaded the streets so we could not help the people. They lost their meagre possessions including family photos and immigration applications that take months to prepare. It was terrible."
French officials have said the evictions were necessary because of health concerns. The raids appear to be part of a pattern in which French authorities have shown themselves to be increasingly intolerant of migrant camps outside the Jungle and the Jules-Ferry Centre.
Syrian refugees, who have been arriving in increasing numbers to Calais over the past month, have looked to stay outside of the Jungle.