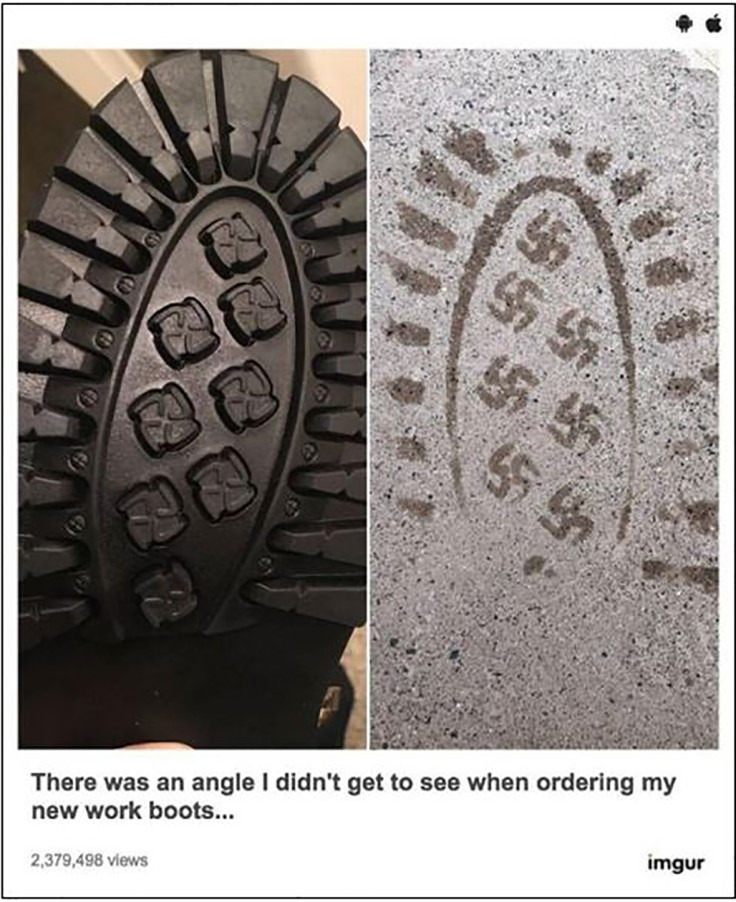 A shoe manufacturer says it is recalling one of its boot brands after they were found to leave swastika footprints.
A customer told of their surprise after receiving a pair of the $39 (£32, €37) boots and discovering they were leaving behind a trail of mini-swastika imprints on the floor.
Sharing a picture of the footprints and boot online, they wrote: "There was an angle I didn't get to see when ordering my new work boots..."
The image was viewed more than two million times on popular image sharing site Imgur and prompted a flurry of jokes about the unusual design.
Makers of the Polar Fox boot, Los Angeles-based Conal International Trading, said it would be recalling the item.
The company claimed the swastika design was not intentional and that senior staff will be speaking to their designers to unravel how the error occurred.
"That was totally something that wasn't intentional or anything like that. It's something that we're going to pull off the shelves obviously...It was obviously a design flaw," e-commerce manager Anthony Nguyen told the Daily Mail.
Nguyen did not rule out the design may have been intended to portray the swastika according to its pre-Nazi meaning as a religious symbol in Hinduism, Jainism and Buddhism.
"Obviously that's something we have ask the designers. That symbol existed before the swastika in Buddhism," he said.
Despite the company's promise the boots would be recalled, they can still be found for sale on online retailer Amazon.
One customer who purchased the footwear left a four out of five stars review on the site.
They wrote: "Love these boots they are very comfortable after breaking in, would be 5 stars but there are swastikas on the bottom of the boots which im not a fan of."
Others chose to leave joke reviews, with one writing: "Nice looking upper, but they don't leave a lot of Lebensraum for the toes."
Another added: "Bought these for camp ... Helped mein kampf."