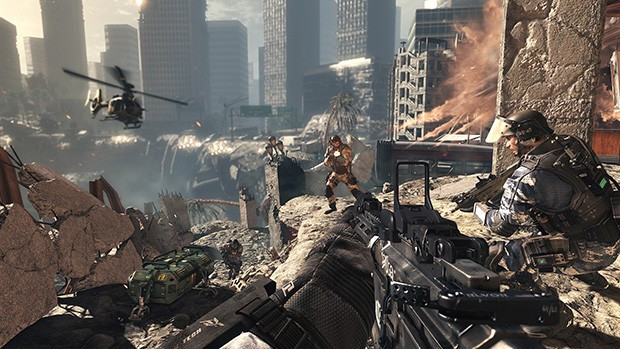 Infinity Ward has rolled out a brand new patch for Call of Duty Ghosts' PlayStation 4 version.
This patch is about 1.7GB in size and is said to improve overall stability. According to Gamepur the patch contains fixes for numerous crashes that occur on the start screen if players start downloading Onslaught DLC before launching the title.
The developers have also shared a tiny change which gives details of all the fixes that the new patch brings.
"Fixed a crash that could occur at the start screen, if you started downloading Onslaught before launching the game," they have said.
On Reddit, Activision's own support team said they didn't have information on why the patches are as big as they are.
Players not happy with constant 1GB+ Patches
Several players took to social media platforms upon the launch of the patch to complain they were not happy with the fact that several COD: Ghosts PS4 patches are more than 1GB in size.
"I find it odd that every single patch for this game requires me to download over 1GB", said Shantred89 on Reddit.
"Today's patch notes say that they fixed a stability issue and the notes end there. How is it even remotely possible that you have to overwrite 1.75GB of data just to fix such a minor issue? Even the patches with way more notes require about the same amount of downloading."
"It's just frustrating when you've got a slow connection in the first place, then have to patch huge files every week anyway," the user added.
Even players of the Xbox One version of COD Ghosts aren't very happy about the massive size of the patches that make very small fixes.
"Same on Xbox One. Patch sizes are ridiculous. 2.1gb to fix a few minor issues the other week", said ShowBaggs on Reddit.