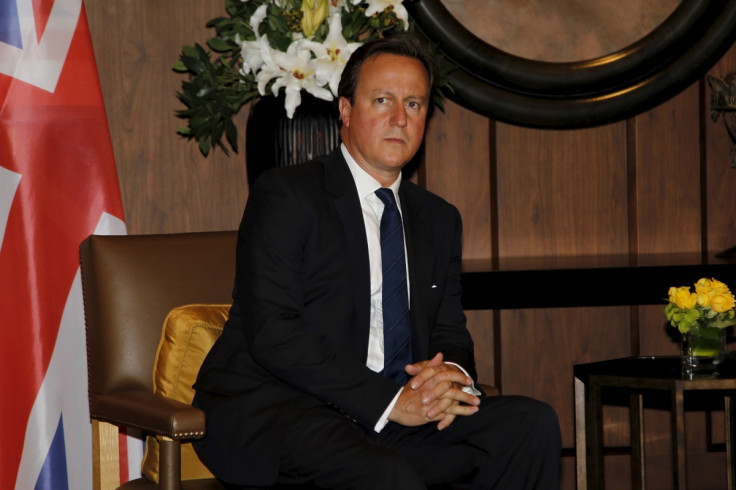 A shocking tell-all by former Tory donor Michael Ashcroft claims UK Prime Minister David Cameron dabbled with marijuana and performed a lewd act during his days at Oxford. Call Me Dave, an unauthorised biography, even claims there was cocaine during one dinner party at the Cameron household.
The first instalment of the book, serialised by the Daily Mail, claims Cameron frequently smoked marijuana with university mates James Fergusson and James Delingpole. Ashcroft penned the book with political journalist Isabel Oakeshott and in writing the account of the prime minister's alleged wild days, they describe a particular instance in which the three friends got stoned while listening to 1970s rock band Supertramp.
"My drug of choice was weed [marijuana] — and I smoked weed with Dave because James's drug of choice was also weed," Delingpole said. "So he and James would come round to my room and the three of us would listen to Supertramp albums... I had a room on the top floor, and we'd all sit on the floor and smoke dope."
Perhaps more shocking is the claim that one member of Cameron's social circle witnessed cocaine being readily available during a dinner party at Cameron's home. The dinner guest, who remained unnamed, said they did not see Cameron or his wife take the drug, but others did during the party.
The leader of the Conservative Party has repeatedly refused to deny taking cocaine, however, he has been adamant that he has not snorted the drug since joining Parliament.
Drug use aside, the new account also claims Cameron was a member of the notorious Oxford dining society, the Piers Gaveston, which held bizarre rituals and sexual acts. An unnamed MP alleged during a June 2014 dinner party that there was photographic evidence that Cameron once inserted his private part into a dead pig's mouth.
The MP, who repeated the allegation several times, said that the pig's head was resting on the lap of a Piers Gaveston society member when Cameron performed the lewd act. The author said attempts were made to get in touch with the owner of the alleged photograph but the person "has failed to respond to our approaches".
Cameron also joined another Oxford society, the notorious Bullingdon Club, which was a riotous drinking club for the super-rich, according to Ashcroft. An MP, who was also asked to join the society, said: "What it basically involved was getting drunk and standing on restaurant tables, shouting about 'f***ing plebs,'" the MP said. "It was all about despising poor people."
Despite the shocking allegations, Ashcroft wrote that Cameron still managed to take his studies at the prestigious university seriously and was regarded highly by his tutors.