Scotland First Minister Nicola Sturgeon has called David Cameron "arrogant" and said he has "spectacularly misjudged" the mood in Scotland one year on from the country's historic independence referendum on leaving the UK.
A referendum on Scottish independence on 18 September 2014 saw the country vote 55% to 45% on remaining in the UK. One year on, Cameron has outlined plans to devolve more powers to Scotland and guarantee the permanence of the Scottish Parliament. But, making a speech in Edinburgh to mark the anniversary, Sturgeon said the referendum had changed Scotland forever and that its voice was still not being heard.
"As we woke up the morning after the referendum the country was inevitably divided between those who were utterly devastated and those who breathed a sigh of relief. But there was also a new and powerful mood in the air that morning. A mood that transcended the divisions of the campaign to unite 'Yes' and 'No' voters in a common determination that our voice as a country would continue to be heard," she said.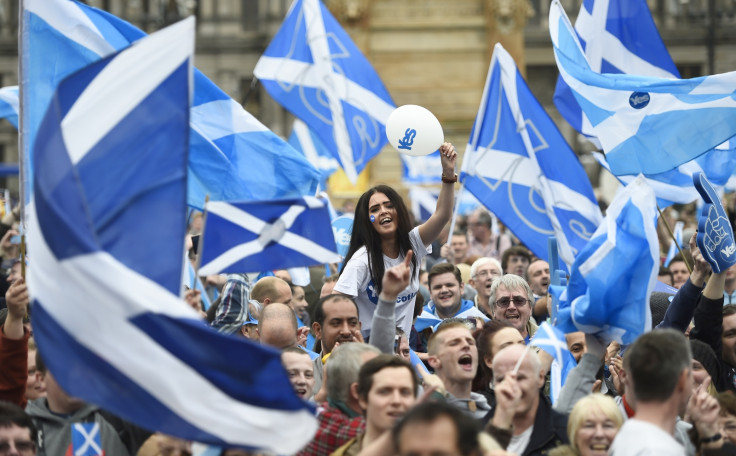 "It was a mood and a moment that was spectacularly misjudged by David Cameron, as he stood on the steps of Downing Street and chose to make Scotland's expression of self-determination all about a Tory-obsession with English votes for English laws.
"As a somewhat tired and emotional nation, or maybe that was just me, watched an arrogant prime minister announce that it was time for Scotland to know her place again. The determination to make our voice heard more loudly that it had ever been heard before grew stronger.
"You know the Westminster establishment had asked Scotland not to leave the UK but to lead it. And the majority of Scots has opted to accept that invitation. So 'Yes' or 'No', we are now not going to be silent."
Sturgeon's Scottish National Party has seen a huge surge in support since the independence referendum, with the SNP becoming the UK's third largest party after winning 56 out of 59 Scottish seats at the 2015 general election. The first minister has claimed the Westminster proposals do not go far enough, sparking speculation of a second independence referendum in the future.