Women's rights organisations have demanded music industry leaders take heed of criticisms involving "sexist and racist" content in music videos.
The End Violence Against Women Coalition, Imkaan and Object have published a report, called Pornographic Performances, condemning the portrayal of women in pop videos as hyper-sexualised and "endlessly sexually available" objects.
Those who view such videos have been found to have an associated tolerance of racist, sexist and even rape-tolerant attitudes, the research states.
Calvin Harris' Summer, Never Say Never by Basement Jaxx and Robin Thicke's Blurred Lines are cited in the report, which is being sent to leading figures in the music industry, as well as media regulators and politicians, with recommendations of change.
The three organisations advocate compulsory age ratings for all music videos, to ensure there is consistency in the regulation of music videos viewed online and on hard copy, as with film.
Sarah Green, of the EVAW Coalition, said: "Some forms of media, such as television and film, are well regulated and our society accepts and supports this. Other forms like music videos are getting away with very little scrutiny and as such seem to be competing for who can most degrade and insult women."
"If the 'creative' people who make them won't stop this, regulators should rein them in and implement age ratings," she added.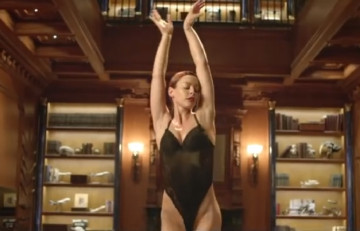 The report draws attention to the portrayal of women in very traditional gender roles in popular culture, with men representing characters of power and dominance and women as passive recipients of their gaze.
"Frame by frame there is a much greater focus by the camera on women's body parts, especially those associated with sex, and many of the film conventions of pornography are used," it reads.
In addition, the paper highlights the portrayal of black women as "wild and animalistic" hypersexual objects. Regardless of the genre of music, the report states that "racialised tropes are deemed marketable".
'Sexual double standards'
For the report, researchers conducted studies among students to examine the effects of watching music videos with sexist or racist elements.
They found that those who have viewed sexualised music videos in a controlled setting express more sexist attitudes towards women and are more tolerant of sexual harassment. They are more likely to endorse a "sexual double standard" - which sees men who have many sexual partners as admirable and women who do so as "sluts".
In one study, viewers who watched sexualised videos and who were then asked to comment on an "acquaintance rape" scenario were more likely to make excuses for the perpetrator.
Lia Latchford, of Imkaan's Young Women's Team, said that for years women have been coming forward with complaints about the representation of women in popular culture.
"We are happy to finally see a briefing which reflects their experiences and the harmful impact of racism and sexism in music videos," she said.
"We believe in women's right to self-expression and freedom of movement. Our concern is how the music industry uses music videos as yet another vehicle to colonise and commodify black women's bodies."