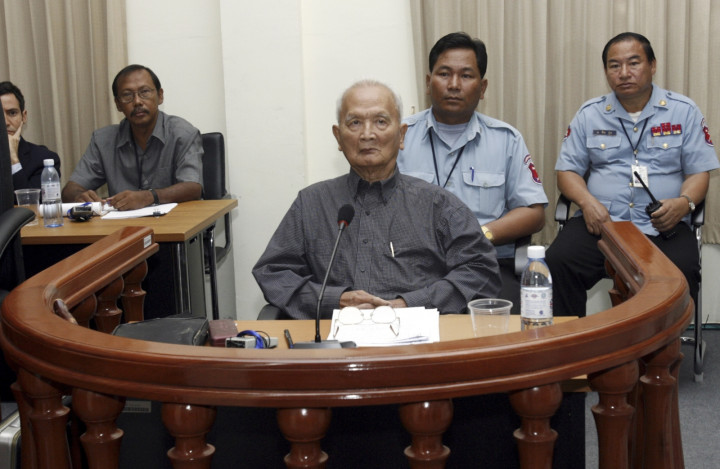 Two former senior leaders of Khmer Rouge, Nuon Chea and Khieu Samphan, have been sentenced to life imprisonment after being found guilty of crimes against humanity by a UN-backed tribunal in Cambodia.
Chea, 88, was Pol Pot's deputy and Khieu Samphan, 83, was the regime's head of state.
Both are the first leaders from the regime to be held to account over alleged crimes committed in the 1970s in which up to two million Cambodians were believed to have died.
Judge Nil Nonn said that the pair were guilty of "extermination encompassing murder, political persecution, and other inhumane acts comprising forced transfer, enforced disappearances and attacks against human dignity".
Both are set to appeal the conviction and will remain in detention while the appeal process takes place.
"It is unjust for my client. He did not know or commit any of these crimes," said Nuon Chea's lawyer, Son Arun.
The case, held at a tribunal formally known as the Extraordinary Chambers in the Courts of Cambodia (ECCC), centred on the exodus of millions of Cambodians from towns and cities in what was known as 'Year Zero' where the regime attempted to 'restart' society.
While the regime held power between 1975 and 1979, nearly a quarter of the Cambodian population died from starvation, overwork, medical neglect and execution.
"My anger remains in my heart. I still remember the day I left Phnom Penh, walking along the road without having any food or water to drink ... Hopefully the court will sentence the two leaders to life in prison," said Suon Mom, a 75-year-old woman whose family of four children starved to death under the regime.
Both defendants are in old age and ill-health and, despite their sentencing, they face a second trial by the end of the year on charges of genocide which is expected to take years more to complete.