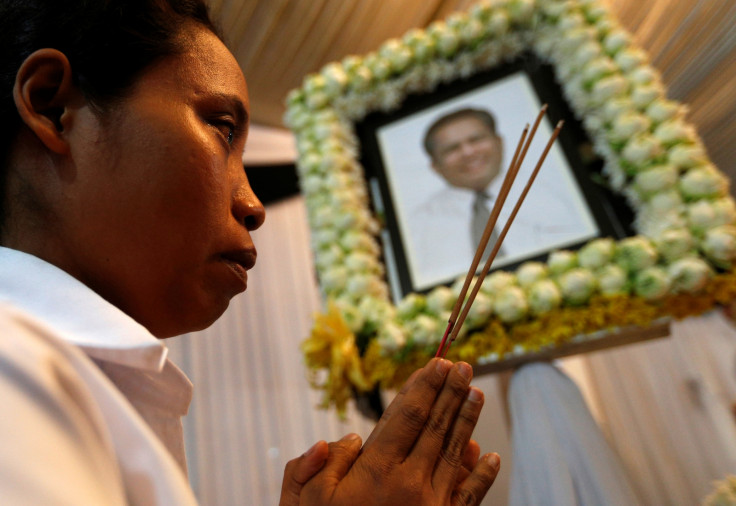 A Cambodian court has awarded life imprisonment to the murderer of a prominent political activist on Thursday (23 March). Kem Ley was shot dead at a petrol station convenience store in the capital city of Phnom Penh on 10 July 2016.
The killing of Ley came amid rising political tensions between Prime Minister Hun Sen and the opposition party, which raised suspicions of a political agenda. However, the killer Chuop Somlap – whose name means "meet to kill" – said that he murdered the government critic over a debt.
During his trial, the 45-year-old former Khmer Rouge soldier and Buddhist monk, who is also known as Oeuth Ang, admitted that he killed Ley over a $3,000 (£2400) debt.
He added that he met Ley through a friend in Thailand in 2015, where the activist had promised to give him a job and a house worth $20,000 in exchange of money. Somlap ended up killing Ley when the activist did not keep his promise.
"The accused did really kill Kem Ley. The killing was premeditated and the accused carried a weapon without permission," Judge Leang Samnath said, while delivering the verdict against Somlap.
However, the 46-year-old victim's family and human rights groups have expressed doubt over the statement as they claimed the activist did not owe Somlap any money. Kingsley Abbott, the senior international legal advisor at the International Commission of Jurists human rights group, urged a re-investigation into the case.
Abbott said, "Until there is an independent, impartial and effective investigation to establish whether anyone else was involved in the killing, the victims of this terrible crime, including Kem Ley's wife and children, will be unable to obtain justice."
He added that the probe into the murder case was not fair as it failed to find out whether Somlap had the means to lend the money to Ley or to purchase a handgun. He also said that the investigation had also not considered all the CCTV camera footage near the crime scene.
Ley, who founded an advocacy group called "Khmer for Khmer", was a staunch critic of Prime Minister Hun, who was alleged in 2016 by Global Witness of having vast personal fortunes and controlling most of the country's lucrative business sectors, reportedly worth $200m (£154m).
Hun has been in power since 1985 and his rule has been plagued with allegations of corruption, electoral fraud and rights abuse.