Campaigners Celebrate as China Bans 'Ordinary Cosmetics' Testing on Animals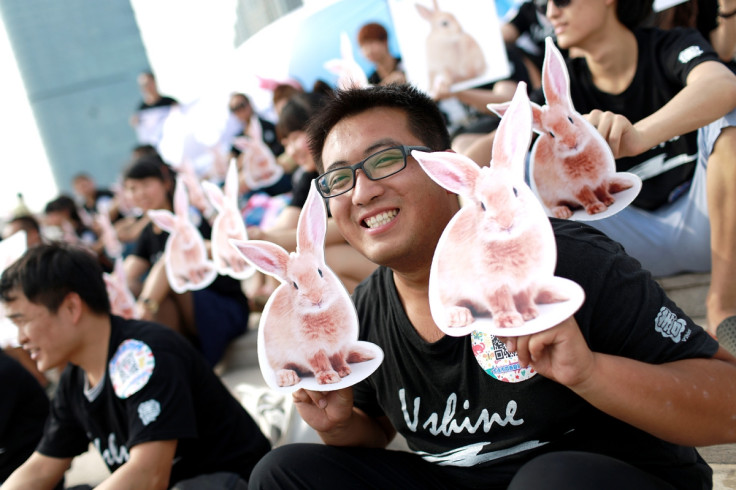 Up to 10,000 animals will be saved every year after China passed a law which bans ordinary cosmetic testing on animals. Ordinary cosmetics include make up, fragrances, skin, hair and nail care products produced in China.
The ban does not apply to "special use" cosmetics – such as skin whitening products, deodorants and sunscreens - and imported cosmetics.
According to Humane Society International (HIS), which launched Be-Cruelty Free, a global campaign to end animal testing, between 100,000 and 300,000 rabbits, guinea-pigs, mice and other animals have so far been used to test cosmetics in China every year.
"If every eligible company took advantage of the policy change, we estimate up to 10,000 animals a year could be saved in China," HIS said.
"During cosmetics testing, animals can have chemicals dripped in their eyes, spread on their skin or force-fed to them in massive, lethal doses.
"As well as causing animal suffering, many of these tests are notoriously unreliable in predicting real chemical reactions in people."
To welcome the ban, HIS – together with more than 20 Chinese animal protection groups - wrote a letter to the China FDA (Food and Drugs Administration).
Be Cruelty-Free campaigners also marked the occasion with a street event featuring 100 life-size rabbit cut-outs and a huge banner in Dalian, China.
In Hong Kong, Be Cruelty-Free's corporate supporter LUSH Cosmetics celebrated with in-store events and a bunny flash-mob.
In the UK, violinist Vanessa-Mae sent a message of support.
"I'm a huge animal lover and it's heart-breaking to think that in China and around the world hundreds of thousands of animals are suffering just to test our make-up," Mae said. "It has to stop. So thank you BeCruelty-Free China, and now let's keep campaigning until we end all cosmetics cruelty."
According to Troy Seidle, HSI's director of research & toxicology, this is just the first step to end animal testing in China.
"It's important to recognise this as the first step in what we hope will be China's journey towards ending all cosmetics cruelty.
Seidle also noted that post-market animal testing, which occurs after a product is released into the market – is not illegal and could increase.
"Chinese authorities have confirmed to us that post-market animal testing will probably increase.
"Now that Be Cruelty-Free has this milestone under its belt, we're confident we will eventually end all China's cosmetics animal testing. But we're not there yet, and companies should remain vigilant if they want to guarantee their ethical policy for customers."
© Copyright IBTimes 2023. All rights reserved.