A large sinkhole as wide as a four-lane road formed a few blocks away from the Canadian parliament swallowed up a van and forced an evacuation from the surrounding buildings in capital Ottawa. There were reports of a gas leak following the incident on Wednesday (8 June). However, there were no reports of any casualty.
The sinkhole was formed in an under-construction area located in the heart of the city, which was closed to all traffic expect buses and taxis. It was speculated that the gaping hole in the pavement was a result of the digging of a 1.5-mile underground tunnel for the city's light rail transit system. However, Ottawa mayor Jim Watson said it was too early to cite any cause and that city officials would hopefully be able to state the actual cause in the coming days.
The hole on the four-lane road began forming midmorning on Wednesday and grew further throughout the width of the road. A parked van and a street lamp fell into the gaping hole. Workers, who had been digging the underground tunnel, were working when the sinkhole began to form. All of them were reported to have been evacuated safely.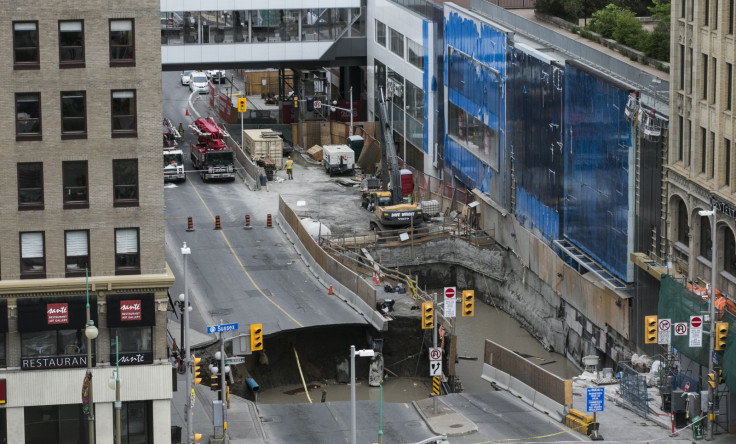 Following reports on social media about a "foul" smell following the crater formation, all nearby buildings – including a shopping centre, a hotel and a convention centre – were reportedly vacated as a precautionary measure. Firefighters went door to door to ensure people had vacated all the business establishments along the busy stretch of the road.
Engineers were at the site to examine the damage and find out the cause. The Guardian quoted Watson as saying that it was difficult to say how long it would take to repair the damage as it was "a significant sinkhole in the downtown core".
He added: "We can't confirm whether the tunnel had any impact on the sinkhole or whether it was a water main break or whether it was a leak of some type that destabilised the soil."