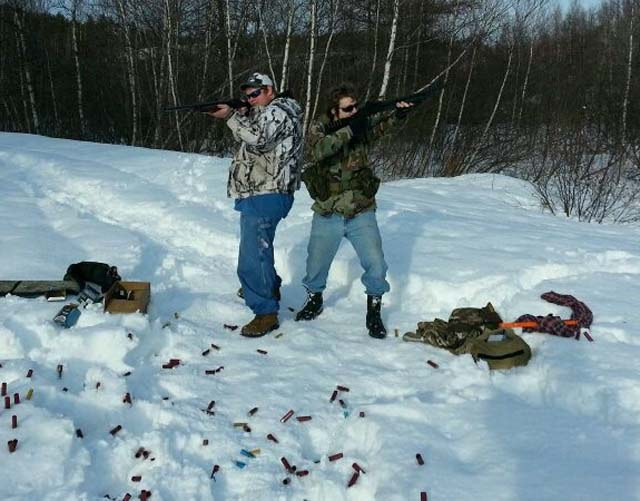 A Facebook profile picture. Guns, ammunition and camouflage. Justin Bourque, the 24-year-old suspected gunman alleged to have killed three policemen, stands with an unnamed acquaintance, aiming his rifle into the distance.
The suspect -- dressed in Rambo-like uniform -- remains on the loose as a city-wide manhunt, consisting of local police, Royal Canadian Mounted Police and soldiers from a nearby military base, continues around New Brunswick.
But who is Justin Bourque?
"Go out with a bang"
Just hours before the attack, Bourque posted a final, cryptic Facebook status with lyrics taken from the Megadeth song "Hook in Mouth" which refers to "a little man with a big eraser, changing history" and ends on "..the worst is yet to come/I believe my kingdom will come."
An acquaintance of Bourque's has supported the theory that he wanted to commit a grand act of terror that would bring him notoriety when he told friends that he "wanted to go out with a bang and bring people with him", giving "people something to remember him for".
Bourque's Facebook page is littered with anti-police posts but it remains unclear whether he has ever been arrested or has a history of criminality.
One notable post is a Dave Chapelle quote which reads: "You ever notice a cop will pull you over for a light out, but if your car is broke down they drive right past you?"
Bourque was fired from Walmart a few years ago for "attitude related issues, being defiant, not doing what he was supposed to be doing -- problem with authority," a former co-worker told Business Insider.
"He's always seemed to have a problem with authority. Issues with parents, bosses, police," she added.
She said that he "seemed friendly enough. Little bit of an outcast, but not to this extent".
"That probably won't be able to happen"
A close friend of Bourque's, Mike Campbell, who lived just houses away from the fugitive revealed that he was raised in a religious Christian family and received his entire education at home.
Campbell remembers a meeting with Bourque a few weeks ago where he invited the fugitive to return for a visit but Bourque replied that "that probably won't be able to happen".
Another acquaintance, Caitlin Isaac, said she was "surprised, and also not at the same time" by the news of the shootings.
She recalls an evening with Bourque which freaked out her group so much that he was not invited again.
"A few people from work went camping one weekend, and he came, and brought his rifle with him, which he held onto the whole night while drinking," she said. "That kind of freaked us out, so we didn't invite him the next time."
What these accounts of those close to Bourque show is one of a troubled young man, obsessed by guns and a desire to put his own stamp on the world regardless of the hurt that he caused.