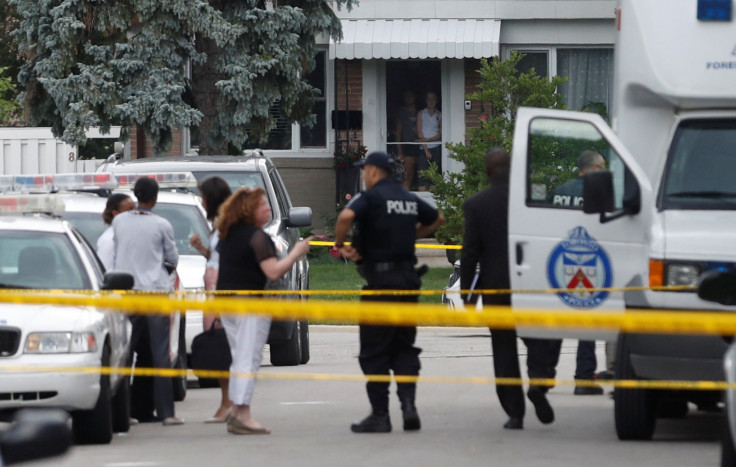 Police responding to a report of a stabbing - which allegedly took place around 12pm local time at a Toronto home - were stunned to find a woman and two men dead with crossbow bolts in their bodies.
Two other men were injured in the attack; one of them was arrested at the scene. A crossbow was found on the floor of the garage close to the victims.
A next-door neighbour, Jerome Cruz, told the Toronto Star that he heard screaming coming from the house in the early afternoon. "I heard somebody screaming in anger and banging. A young man screaming. I heard another man say, 'Calm down,' and a lady come from the house," he said.
"It was going on for about five minutes — the screaming. After that, all quiet." Cruz said a middle-aged couple lived at the home. Investigators are still seeking a motive for the brutal killings.
"We don't have any idea as to why this may have happened," said Toronto police spokesman David Hopkinson.
"We still have a ways to go to determine what exactly happened," said Detective-Sergeant Mike Carbone.
Carbone was on the scene at the sprawling home in Toronto's east end with other investigators, forensics analysts and at least one body beneath a cover on the driveway of the home. The entire area was blocked off with yellow police evidence tape.
Investigators said a suspicious package found later at a downtown condo building with a daycare centre was linked to the crossbow slayings, but they offered no further details. The building was evacuated.
"I'm not going to discuss what was found at the scene, other than to say there is a link between our scene here and the one" in the downtown building, Carbone told reporters.
A crossbow bolt is a projectile under 40.6cm (16 inches) in length. The weapon is not something often used in a multiple homicide because reloading takes time, But, unlike guns, no licence is required to buy or own a crossbow.
In 2010, a man shot his 52-year-old father in the back with a crossbow in a Toronto public library before smashing his skull with a hammer. Zhou Fang, who had suffered domestic abuse, was convicted of second-degree murder and sentenced to life in prison.