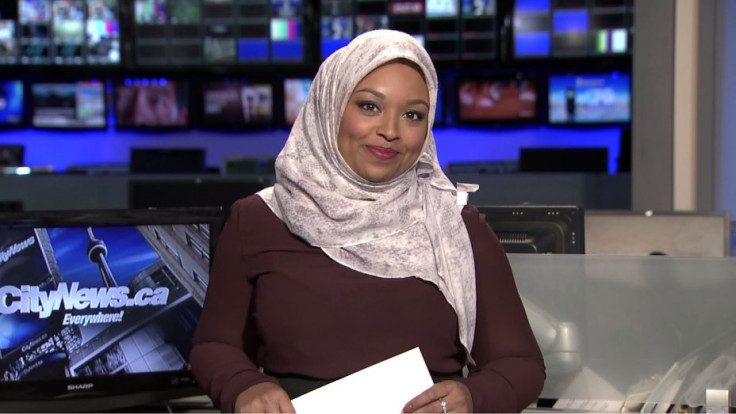 A Canadian television journalist who was told women in hijabs would never appear on air has defied the odds to anchor a major channel's newscast.
Ginella Massa has been a reporter since 2015 and when Toronto's CityNews network needed an anchor on 18 November, she stepped in.
Her appearance has since created a huge buzz, both positive and negative, but the 29-year-old did not immediately grasp the significance of what she had accomplished.
"It wasn't until my editor said, 'Hey, great job! Was that a first for Canada? A woman in a hijab?' And I said, 'Yes'," she told the Guardian.
"As much as I knew it was important, I didn't expect the reaction that I received. My phone hasn't stopped buzzing for the last week."
Following the conversation with her editor, Massa tweeted: "That's a wrap! Tonight wasn't just important for me. I don't think a woman in hijab has ever anchored a newscast in Canada. Thx CityNews."
Though the majority of the responses she received were "overwhelmingly positive", Massa also received a handful of hateful messages.
Earlier this year, Fatima Manji presented the news for the British programme Channel 4 News on the night of the Nice terror attacks. Her appearance led former Sun editor Kelvin MacKenzie to pen a vitriolic column stating the channel's decision to feature Manji was "editorial stupidity" at a time when "there had been another shocking slaughter by a Muslim".
Manji reported MacKenzie to the Independent Press Standards Organisation for inciting racial hatred but it did not rule in her favour.
Massa has tried to take a different approach, and said she hoped the way she approaches her role will challenge people to question stereotypes.
"It tells me that I need to continue what I'm doing because for some this may be the only interaction they ever have with a Muslim woman in hijab, and maybe it will change their perception about who we are and what we can do," Massa said to Huffington Post.
She added: "I worried that I would never be hired or accepted simply because I had never seen anyone who looked like me on TV.
"I once had a colleague tell me that a women in hijab would never be hired on-air because it's 'too distracting'. That only made me want to work harder to prove him wrong."