A Canadian politician is under pressure to resign after someone sent pornography to almost 100 officials and public service chiefs from his email account on 29 May.
Councillor Andy Petrowski denies using his Niagara Region government email address to send an indecent image of a woman to 95 people by hitting 'reply all' to correspondence about local infrastructure.
The St. Catherines representative claims another (unidentified) person used his government-issued iPad to send the image, which showed a naked woman with her legs spread apart, to rest of the group.
However, fellow politicians, including the MP for Ontario, have called for Petrowski to resign – adding that it's not the first time he has demeaned the office.
The episode started with an email sent at 12.05pm by Niagara Regional Council to 95 individuals, including politicians, the head of the fire service and a utilities boss.
The message relayed information about work being carried out at Burgoyne Bridge – a controversial $CA100m (£57m, $74m) project in Niagara.
At 1.22pm, a reply from Petrowski's email address was sent to every other recipient of the original email. It said:
"There must have been a sale on these multi-million dollar, taxpayer-funded, non-functional arches ... guess who put these up in Ottawa?" he wrote. "You're right if you said .... drum roll, please....Pomerlau [a development company]...what a joke!"
It was accompanied by this picture: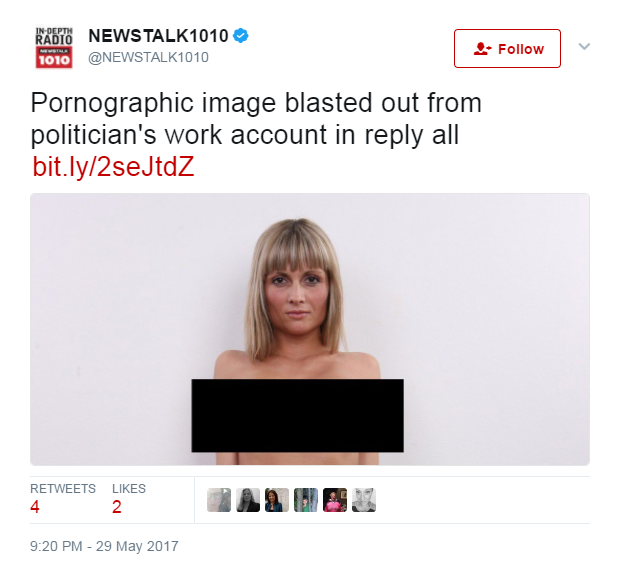 Six minutes later, Petrowski sent a further message to the group, reading:
"I apologize to everyone for the previous e-mail just sent...this was sent in error as a terrible message by someone who was using my iPad I thought to send a private message. I am very sorry for this unacceptable and inappropriate transmission."
Petrowski has so far not identified the person allegedly responsible for the gaffe. He told CKTB he took "full responsibility for the lack of judgement in leaving my Regional e-mail system unlocked".
It is not the first the councillor has landed himself in hot water. He previously tweeted that Barack Obama had a "perverted mind" for supporting gay marriage, according to the St Catherines Standard.
He drew criticism for voicing his concerns about Syrian refugees on talk radio in late 2016 when he said: "The only one that matters is the one who decides to put a machine gun in his or her hands and wipe people out."
Niagara Regional Chair Alan Caslin has called for Petrowski's resignation in the wake of the latest incident, describing the behaviour as "reprehensible" and "completely unacceptable for a regional councillor".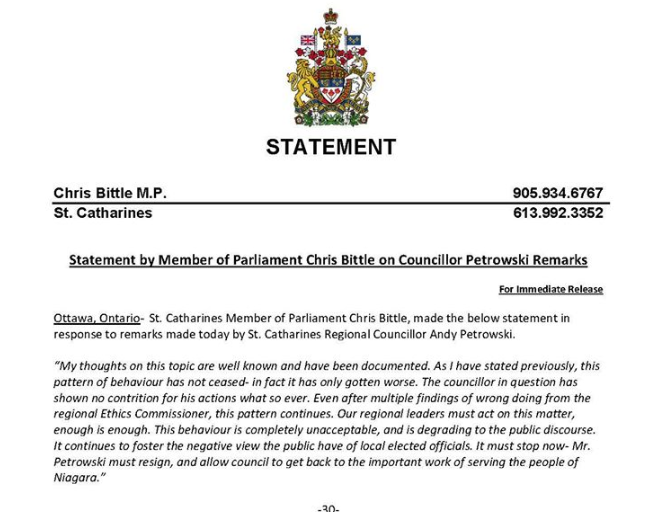 Liberal Ontario MP Chris Bittle added in a statement: "As I have stated previously, this pattern of behaviour has not ceased - in fact it has only gotten worse... This behaviour is completely unacceptable, and is degrading to the public discourse... Mr. Petrowski must resign, and allow council to get back to the important work of serving the people of Niagara.
​Dave Augustyn, the mayor of Pelham, Ontario, and a regional councillor, told CBC it was "the third or fourth last straw with this particular councillor".