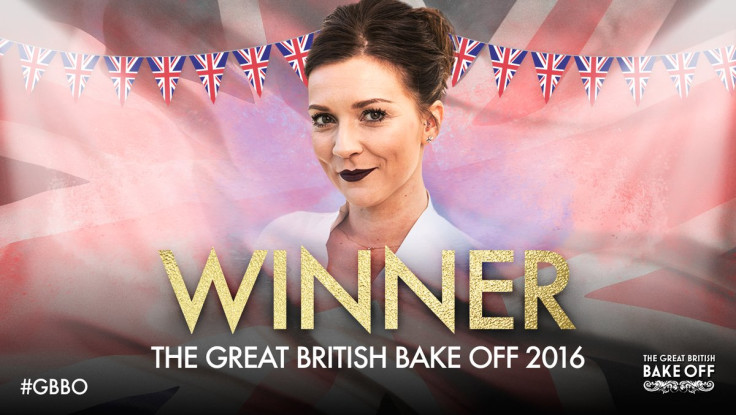 Candice Brown has been crowned as 2016's The Great British Bake Off champion, breaking down upon hearing she had won the coveted title.
"Never ever ever thought I'd even get on this and I'm standing here with this," she said fighting tears. "And that means more to me than anyone will ever realise."
The 31-year-old physical education teacher from Bedford impressed consistently week after week with patisseries as perfect as her famed pout.
A champion in the technical challenges, she created gingerbread masterpieces and divine desserts, only suffering the occasional "soggy bottom", to find herself in the final with fellow bakers Andrew Smythe, a 25-year-old aerospace engineer from Derby and Kent garden designer, Jane Beedle, 61.
Between them, the trio delighted the judges and the public with their innovative concoctions, presenting one showstopping spectacular after another. Hollywood was clearly impressed by Jane and Candice from the get-go, with the two of them being afforded the rare distinction of a "Hollywood handshake" for their meringue based crowning glories.
"He's giving out hand-shakes willy-nilly," said Jane upon being the second person in the tent to be bestowed the rare honour. Andrew, in comparison, was left crestfallen as he missed out on the bread expert's very personal seal of approval, but was compensated with plaudits for his regal Victoria sponge.
The technical challenge to make a Victoria Sponge had Candice doubting her chances after the Queen of cake baking, Mary Berry, said her jam was too runny. She redeemed herself however, as the finalists were set the task of a creating a picnic hamper "fit for the Queen".
Jane's raw pastry and her bland butternut squash scones were her downfall after a promising start and Andrew too suffered a pastry fail as his soggy strawberry tarts crumbled.
But Candice managed to keep her cool in the final showstopper with a near perfect medley of bakes in a perfect hamper, comprising salmon quiches, delectable raspberry and rhubarb tarts and a chocolate cake that had Hollywood in raptures.
"That's a lovely cake," he declared. "It looks an exciting hamper," added Berry. "Im sure the Queen would love this seletion and it does look right royal and regal."
Reflecting on how close he had come to being crowned Bake-Off champion, Andrew said: "Of course I'm a little disappointed but to see everyone ... It's been really special ."
Jane who was pipped at the post by Candice said she fully expected her rival to walk off with the title. "I'm happy for her Week after week her bakes have got better and better. I predicted it!" she said.
Candice herself was aware of the stiff competition the two other finalists presented, but in the end the win was the validation she needed.
"Jane and Andrew are so so good, so good. [But] I did it and I'm good," she said. "I'm good enough. I don't know what to say. What an opportunity. Amazing."
There were no hard feelings between Jane and Candice, as it was revealed the pair are set to embark on a baking road trip together.
Mary Berry said she had been inspired by Candice's "...determination and passion. She has excelled with wonderful flavours," she added .
"When you look back her bakes they've been beautiful. When she nails it she's one of the best," added Hollywood.
The 2016 Bake-Off final was momentous, not only because it marked the culmination of several weeks of culinary masterpieces and kitchen catastrophes that saw one baker after the other leave the tent, but it is also the last bake off to ever be broadcast on BBC, after it was announced in September that the show would be transferring to Channel 4 from 2017.
Celebrities and fans who have been riveted to the baking TV show, took to Twitter to share their reaction to Candice's win and their sadness at the demise of the BBC version of the show, which sees Mary Berry, Sue Perkins and Mel Giedroyc end their Bake-Off journey.
However, it isn't quite over yet. To the utter delight of fans, it was revealed that the original presenting teams will return with two more episodes for Christmas, before hanging up their BBC baking hats for good.