Hollywood's rich and famous are set to join tens of thousands of film fans for the start of the 69th Cannes film festival on Wednesday (11 May). While the two weeks of glitz, glamour and cinema will be the focus for the 200,000 expected to attend, the other story to this year's festival is one of security.
As a result, the Mayor of Cannes, David Lisnard, has hired a former Israel Defence Forces (IDF) general to help oversee the elaborate security operation. Brigadier general Nitzan Nuriel, now a director at the Israeli National Security council, has been helping the police and emergency response teams plan for what he called a Paris-style "multi-terror event".
It's six months since Paris was hit by a series of terrorist attacks, leaving 130 civilians dead and hundreds more injured. Subsequent bombings in Brussels saw 32 civilians killed.
Fears another Islamic State (Isis) attack could be launched on what is one the world's biggest stages have led French authorities to be on high alert in Cannes.
More than 200 armed police, along with hundreds of officers drafted in from the National Police and Gendarmerie, will make up the boots on the ground during the festival. Some 500 CCTV cameras and metal detectors join the added layer of static security at entrances, while undercover police are expected to roam around movie fans and film stars.
The fear of beach attacks, as reportedly threatened by IS, and even aerial assaults has also led to air and sea exclusion zones to be imposed. This includes a ban on drones.
"The line has shifted," Nuriel told The Hollywood Reporter. "Things that we used to do in the previous festivals are probably no longer relevant. "You have to be prepared for what we consider a multi-terror event, not only in one place and not only in one hour — in a few places over a few hours."
Two days before the festival opens with Woody Allen's 1930s comedy romance Cafe Society, France's Interior Minister, Bernard Cazeneuve, arrived in the French Riviera to check on security. He also warned the stakes at this year's event were high.
"We are faced with a higher risk than ever," Cazeneuve told reporters. "Faced with an enemy determined to strike us at any moment, we must prove extremely vigilant at all times."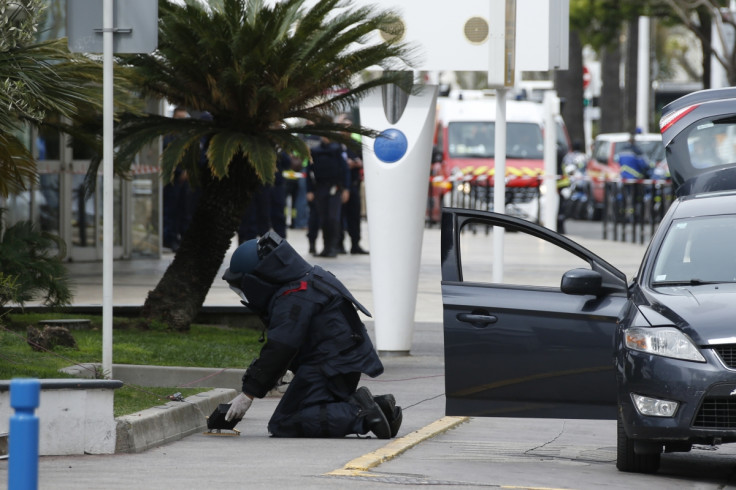 Cazeneuve said the city had to take into account "the global nature of the event, its visibility, the high number of celebrities who must be protected, the concentration of crowds in public spaces, without forgetting the need to preserve the atmosphere of conviviality which is crucial to the success of the festival".
Festival organisers, politicians and security experts have been keen to put forward an image of preparedness to the outside world.
On 21 April, a simulated terrorist attack was staged on the steps of the Palais des Festivals, seeing masked gunmen storm the building and "terrorists" plant car bombs nearby. Staged in front of the world's press, the goal was twofold: to improve coordinated training among the city's emergency and security services; and to show potential visitors to Cannes that, in the words of Palais president Claire-Anne Reix, "we are training, we are preparing, we are ready".
For some, the video footage of balaclava-clad "terrorists" in Cannes, and the sounds of explosions outside the Palais, had the opposite effect. Yuhka Matoi, an executive with Japan's Tokyo Broadcasting System, said: "I only found out we might be in danger when I saw that video. I wasn't thinking about it until then. Maybe I'll stay away from the red carpet this year."