In what is quickly becoming a whirlwind few weeks for stories about the future of Marvel's big-screen Avengers universe, another tidbit potentially involving Joe and Anthony Russo - the directors of Captain America: The Winter Soldier - has revealed even more.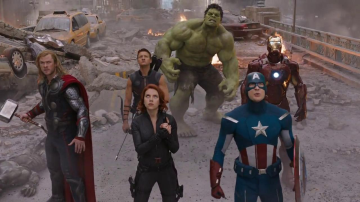 Badass Digest writer Devin Faraci has dropped a couple of juicy rumours, including a possible title for Captain America 3 and what's in store the Russo brothers, who are in creative control of their second film in the Captain franchise.
"I've been told that the Russo brothers are in talks to direct Avengers 3 and possibly 4," Faraci wrote. "Sources tell me that they're the favourites of Marvel right now and that they are the guys [Marvel Studios president] Kevin Feige want to pick up the mantle from Joss Whedon."
Faraci's report claimed Captain America 3's full title will be Captain America: Fallen Son, citing multiple sources but this is still unconfirmed.
And in more big news, Robert Downey Jr will be joining Captain America 3 to tell the famous Civil War storyline from Marvel's comic universe, which pits Iron Man against the red, white and blue hero.
Whedon directed 2012's Avengers Assemble and returns for next year's sequel, Age Of Ultron. But if the rumour about the direction of the forthcoming Avengers films is true, it is a huge endorsement of the Russos and a massive commitment from them, too.
However, that leaves Whedon's future in some doubt, though it is fair to assume he will remain part of proceedings at Marvel and act as a producer at least.
And there is talk of what Avengers: Age Of Ultron will be about, what will happen and how that may tie into Captain America 3 - but to avoid spoilers, I won't be discussing that.
Age of Ultron will be released on 24 April 2015 in the UK, with Captain America 3 following a year later on 29 April 2016.