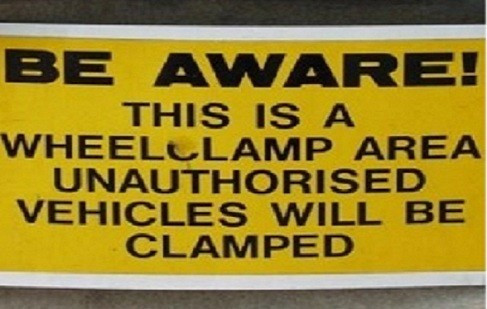 Cowboy clampers could use loopholes to wriggle out of new rules on vehicle clamping in England.
A new law, enacted from 1 October, makes it a criminal offence to clamp vehicles on private property, under the Protection of Freedoms Act.
Lawmakers hope the reforms will shut out rogue traders who exploit the system by failing to display warning signs clearly, then lying in wait to pounce on unsuspecting motorists.
Stories abound of hapless motorists being hit with demands for jewellery and even gold teeth in exchange for the release of their vehicle.
But fears have been raised that enough wriggle room exists in the new rules for unscrupulous firms to carry on ripping off drivers and extorting cash.
The ban only applies on private land, for example, and there are a string of exceptions, including railway stations, airports and sea ports.
Also under the new law, operators will still be able to issue tickets - even on private land. Critics say the cowboys will simply blanket car parks with a blizzard of questionable tickets.
A new appeals body, Parking on Private Land Appeals (PoPLA), which will mediate disputes between drivers and clamping firms has already been decried as toothless because only legitimate firms that sign up to it will be bound under its rules.
The AA campaigned for the changes in the rules on car clamping in England. The practice has been illegal in Scotland since 1992.
Stories of extortion by clamping firms include one ruthless operator targeting an AA patrol vehicle. Elsewhere, a hearse was clamped on the way to a funeral.
But things ended badly for one rogue who got an Asbo for clamping a marked police car with flashing lights and high-visibility stickers all over it.
The AA's president, Edmund King, welcomed the law change. "We are delighted that cowboy clampers will have to hang up their clamps," he said.
"This campaign had become a personal crusade for me over the last decade.
"Too many clampers have been acting like modern-day highwaymen for too long. Many elderly and vulnerable people have been ripped off by these callous cowboys."
Good Riddance to the Car Clampers: 10 Most Outrageous Clamps