Car rams into Tel Aviv crowd just as Donald Trump arrives in the city
The incident happened just as the US president arrived for a state visit.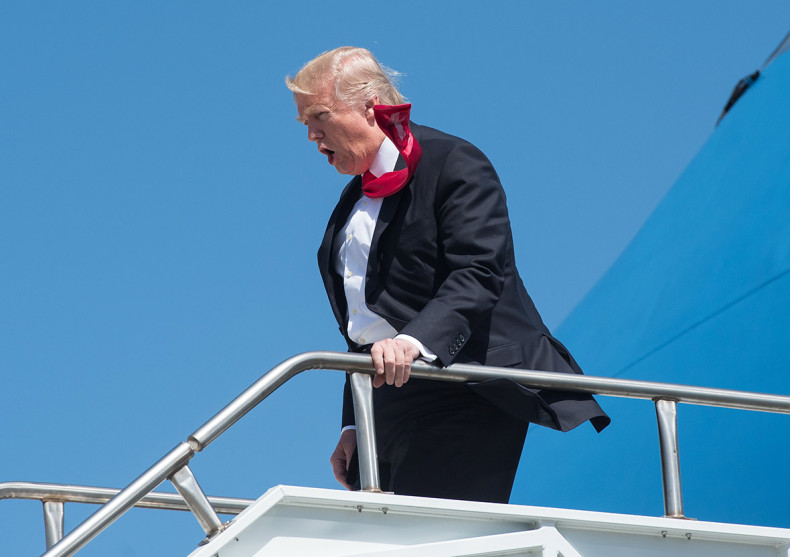 As Donald Trump landed on the runway in Tel Aviv, there was drama on the streets of the city after a car drove into a busy crowd. At least five people have been injured, two seriously near to the Nachlat Binyamin Mall.
It was later described as an accident, but tensions have been running high in the country ahead of Trump's visit.
The incident came almost exactly as Air Force One touched down at Ben Gurion International Airport on Monday (22 May) for a visit to Israel and the Palestinian territories.
It comes amid new tensions in the region in which Trump has handed his son-in-law Jared Kushner the task of forging a renewed peace process between Israel and Palestine.
This has been a change in policy which has, in recent years, been handled by secretaries of state, more recently John Kerry and Hillary Clinton.
Trump said that finding a solution to the Israel-Palestine conflict is "maybe not as difficult as people have thought."
Upon arrival, he and Melania Trump were greeted by Israeli President Reuven Rivlin as well as Prime Minister Benjamin Netanyahu.
Trump said "Hello my good friend" with the Israeli PM replying "welcome my good friend."
After giving a speech at the airport, Trump then greeted the whole Israeli cabinet, including the minister for public and internal security Gilad Erdan who mentioned the "ramming" while speaking to the president.
The trip is the second leg of Trump's first foreign excursion as president after spending the weekend in Saudi Arabia.
Israel also has expressed concern about the $110bn arms sale to Saudi Arabia that Trump announced on Saturday in Riyadh. Yuval Steinitz, a senior Cabinet minister and Netanyahu confidant, called Saudi Arabia "a hostile country" and said the deal was "definitely something that should trouble us".
Trump's trip comes as the dynamics between the United States and the region's players are moving in unexpected directions.
While Israeli officials cheered Trump's election, some are now wary of the tougher line he has taken on settlements: urging restraint but not calling for a full halt to construction. Trump has retreated from a campaign pledge to move the US Embassy in Israel from Tel Aviv to Jerusalem, bending to the same diplomatic and security concerns as other presidents who have made similar promises.
Palestinians, who viewed Trump's victory with some trepidation, are said to have been pleasantly surprised by Trump's openness during a recent meeting with Palestinian President Mahmoud Abbas in Washington.
A senior official who was part of the Palestinian delegation said Trump is planning to try to relaunch peace talks, with a goal of reaching an agreement within a year.
The Trump administration rejected a request from the Palestinians to push for an Israeli settlement freeze, but promised to sort out the issue during peace negotiations, according to the official, who was not authorised to publicly discuss the private meeting and spoke on condition of anonymity.
Israeli officials say they are largely in the dark about what ideas Trump might present for peace or what concessions he may demand.