Donald Trump attacks Iran in front of Arab world – as he praises Saudis for 'empowering women'
'For decades, Iran has fuelled the fires of sectarian conflict and terror,' US president declares.
US President Donald Trump singled out Iran as the worst backer of international terrorism in a keynote speech in Saudi Arabia – as he praised the Kingdom for "empowering women".
His wide-ranging speech, delivered in the Saudi capital Riyadh on Sunday (21 May), was discursive on the roots of Islamic extremism, but he reserved his most scathing comments for Tehran.
It was delivered in front of leaders from 40 Middle Eastern countries, and was watched by Arabs across the region and people across the world.
Trump said: "Starving terrorists of their territory, of their funding, and the false allure of the craven ideology will be the basis for easily defeating them.
"But no discussion of stamping out this threat would be complete without mentioning the government that gives terrorists all three: safe harbour, financial backing and the social standing needed for recruitment.
"It is a regime that is responsible for so much instability in that region. I am speaking of course of Iran. From Lebanon to Iraq to Yemen, Iran funds arms and trains terrorists, militias and extremist groups that spread destruction and chaos across the region.
"For decades, Iran has fuelled the fires of sectarian conflict and terror. It is a government that speaks openly of mass murder, avowing the destruction of Israel, death to America and ruin for many leaders and nations in this very room."
On the subject of female equality, Trump is likely to have raised eyebrows after he praised his hosts for their approach to women.
"Saudi Arabia's Vision for 2030 is an important and encouraging statement of tolerance, respect, empowering women, and economic development," he said.
Twitter was quick to spot the apparent contradiction, given Saudi Arabia's record on women's rights.
The US President also urged Muslim leaders to tackle extremists in their own backyard.
"Drive them out of this earth," the US President declared.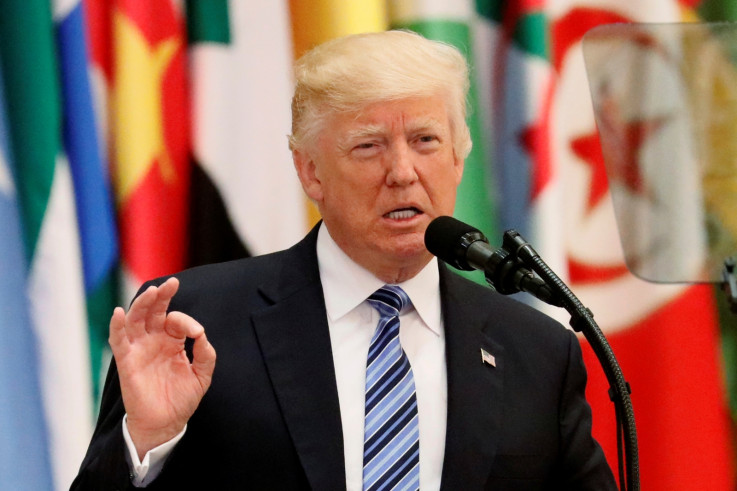 US President Donald Trump delivers a speech during Arab-Islamic-American Summit in Riyadh, Saudi Arabia.
Reuters
His speech will anger Iranian leaders including President Hassan Rouhani, who was re-elected for a second term on Friday (19 May).
Rouhani is considered by most as a moderate and reformist – a view that was solidified when he negotiated the 2015 nuclear deal with the US, UK, France, China, Russia and Germany.
Analysts have long believed that Trump would try to undermine the agreement, with many of his cabinet members taking a hard-line view on the Islamic Republic.
In his speech, Trump added: "The people of Iran have endured hardship and despair to their leaders' reckless pursuit of conflict and terror.
"Until the Iranian regime is willing to be a partner for peace, all nations of conscience must work together to isolate Iran, deny it. Funding for terrorism – [you] cannot do it.
"And pray for the day when the Iranian people have the justice and righteous government they so richly deserve."
Trump's speech – which advisors said would be "blunt" before it was delivered – made no mention of Saudi Arabia's funding for terrorism.