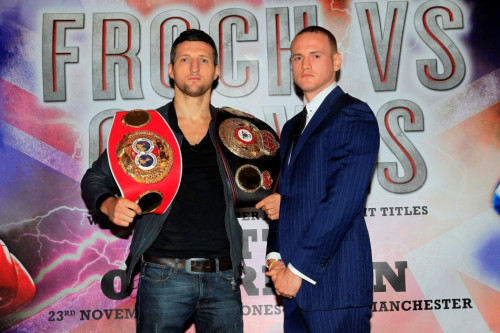 Carl Froch claims George Groves has rejected his offer of a highly-anticipated rematch following their controversial bout last year.
The British fighters stepped in the ring last November as 25-year-old Groves challenged Froch for his IBF super-middleweight title which ended in the champion retaining his belt after a ninth round stoppage.
The decision to stop the fight provoked disbelief across the world of British boxing and prompted Groves to launch an appeal against the decision taken by the referee that night Howard Foster Jr as countless boxing fans demanded a rematch.
The London-born fighter told Sky Sports News earlier this week that he is confident of earning a rematch against Froch but claimed the 36-year-old's camp were not keen on the idea.
But the middleweight champion has hit back at Groves' claims, insisting the younger fighter has turned down his offer of a rematch despite a seven figure offer also being put on the table.
"There has been plenty of speculation over the last few weeks regarding my future," Froch said in a statement released on Friday. "As it stands we are looking closely at two options, George Groves and Julio Cesar Chavez Jnr.
"Yesterday, we made a seven figure offer to George Groves for a second fight that would have seen him earn around double that of the first. Disappointingly, George rejected this offer so we are continuing our talks with Top Rank and HBO regarding Chavez Jnr."
"I understand the demand for the Groves fight in the UK, but also the demand in the US for the Chavez fight. Talks are on-going and no doubt some further news will break soon.
"I'm happy to fight anyone, as I have throughout my entire career."
Groves enjoyed a blistering start to his clash with Froch last year, knocking his opponent down in the first round and continued to inflict some heavy punishment until the Cobra returned with some telling shots in the ninth, leading to Foster Jnr to call for the bell.
Since that night in Novemebr Groves has been keen to set the record straight.
"I know and I feel a lot of people know why he doesn't want to fight me, because apart from getting beaten he'll probably get hurt as well," Groves said. "He embarrassed himself pretty badly in the build-up to the fight and failed to perform.
"It was very unsatisfactory. Nobody really feels the fight is finished and it all adds to the feeling that this fight needs to happen again."