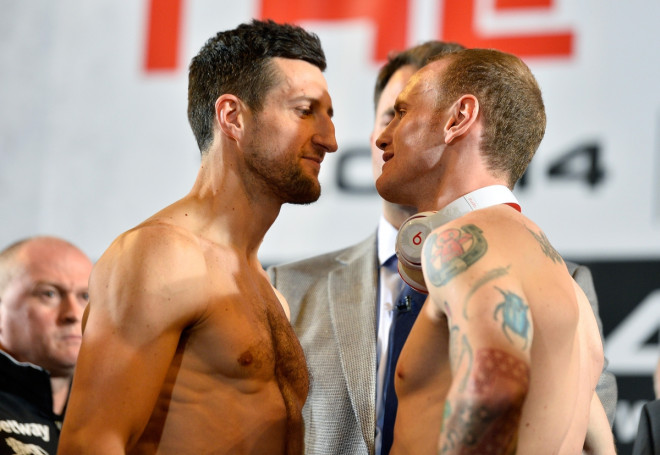 Seven months on from that contentious evening Manchester, one of the biggest nights in British boxing history is upon us. In front of a Wembley crowd that will dwarf the 42,000 that watched Nigel Benn's rematch with Chris Eubank over 20 years ago, Carl Froch and George Groves will meet in a fight that will be laced with edge, intensity and expectation.
Opinion remains divided as to who will be victorious. Groves' emphatic start in Manchester that saw him floor his opponent in the first round coupled with his relentless pursuit of a rematch through the IBF have seen many identify him as the crowd favourite. The fact that this will be just his second world title fight has become redundant given the spectacle the tonight's bout has evolved into.
But the reigning IBF and WBA champion Froch has remained unmoved in the face of all of Groves' bluster. The 37-year-old's standing as the best pound for pound fighter Britain has to offer and perhaps more importantly, a man who has learned from his mistakes in the first meeting, ensures he is still recognised as an immovable object in the sport.
The scale of tonight's battle has caught the imagination of the country. While everyone will have their say, we see how the current and former champions of the sport envisage tonight's fight unfolding.
Lennox Lewis, most recent undisputed world heavyweight champion
"Everybody is taking it a lot more serious and George Groves really feels like he can do something to Carl Froch this time and he really wants to do it. You can hear it from all the things he has been saying.
"Froch is taking it a little bit more seriously too and he wants to go out there and prove something and show he can do his technical stuff and stay away from throwing the haymakers. I think he's learned his lesson and I don't think he wants another to happen again.
"Whoever keeps his chin lowest is the one who is going to win and Froch has the advantage as he definitely has the stronger mind and he's put a lot into training.
"I know how this man thinks and trains; he's taking it very seriously."
"I say Froch [will win] by a knockout."
Amir Khan, former two-time world light-welterweight champion
"A lot of people thought George was winning the fight. I had him up on points," Khan told Sky Sports. "The stoppage wasn't the best stoppage. The referee should have let it go on another 10 or 20 seconds. George will be thinking he could have been world champion because he was winning.
"I've bounced back from defeat and it's only made me a better fighter so I think George can come back stronger from this defeat and he knows he can win because he's a better fighter.
"Froch takes a lot of punishments in fights. It catches up with him and you never know - in this fight it could show that it's taken its toll. If he boxes smartly and doesn't get hit as much as he normally gets hit, then he can win."
Nigel Benn, former WBO middleweight and WBC super-middleweight champion
"I believe George has the edge, not just because of mind games, but because he is young and strong and has speed on his side," Benn told World Boxing News. "If he fights the way we know he can, then I see him stopping Carl because Froch knows he has the power now from the first fight."
Chris Eubank, former WBO middleweight champion and former WBO super-middleweight champion
"Carl didn't win the first fight. The decision went a particular way, but it was the wrong way, period. There is no discussion about that," he told Sky Sports News.
"The stoppage was the wrong decision. Out of respect for the fighters, to give a prediction, isn't really fair to me. We don't know what's in the hearts of the fighters, and I'm not a clairvoyant."
James DeGale, former opponent of George Groves
"Froch v Groves will be a close one. I'm sitting on the fence but with a gun to my head I'd probably go with Groves," DeGale told Boxing Scene. "You never know, because there are so many ifs and buts. That's why the fight is so intriguing, no one knows."
David Haye, former WBA heavyweight champion
"I've sparred with George a lot and he is very awkward, but I sparred with Carl too and he's very awkward as well.
"In terms of my own style I am trying to think which one I would least like to box. I have seen Carl out-boxed on occasions but I haven't seen George out-boxed, so I'd probably go for Carl if I can out-box him. But believe me, if you try and go to war with Carl, you just come unstuck!
"I am sitting on the fence again for this one. I am not going anywhere and I am certainly not going to pick a winner. I am just going to sit back and enjoy the fight and see how it plays out. I am watching this as a fan. I am not there to cheer someone on and I don't need to because 80,000 people will be doing that at Wembley."
Scott Quigg, WBA super-bantamweight champion
"Whether you agreed with the decision or not, Howard Foster Jr's made them both another ton of money and it's made a grudge match with every ingredient you need to make a super-fight. That's down to Foster whether he was right or wrong.
"It did get stopped too early but I do believe Carl Froch would've gone on to stop him in that round. Whether it was 10 or 15 seconds early, I think the right person won.
"You've got to keep your cool. Personally, I don't think they'll shy away from it. If they start exchanging early and the crowd erupts and Groves can feel the atmosphere, he's got to stick to his gameplan. If he starts trading with Carl then that's going to be a big factor."