Caroline Wozniaki became the latest in a string of professional tennis players to speak out against wildcards given to Maria Sharapova as she prepares to make her comeback to competition after a 15 month doping ban. Wozniaki joins the likes of Andy Murray and Simona Halep to criticise the decision.
In October 2016, Sharapova officially lost her Women's Tennis Association (WTA) singles ranking, having not competed in enough tournaments during the year. According to WTA rules, a player must compete in a minimum of three tournaments over a 12-month period in order to maintain a place in the rankings.
Sharapova has been handed a wildcard to compete in next month's Porsche Grand Prix in Stuttgart which begins just two days before her ban expires on 26 April, when she will play her first match.
Speaking at the BNP Paribas Open in Indian Wells, Wozniaki said: "I think it's questionable allowing – no matter who it is – a player that is still banned to play a tournament that week. From the tournament side, I think it's disrespectful to the other players and the WTA.
"Obviously rules are twisted and turned in favour of who wants to do what. I think everyone deserves a second chance and I think she's going to come back and fight her way back. I'm sure she's going to play well. But at the same time, I feel when a player is banned for drugs, I think someone should start from the bottom and fight their way back."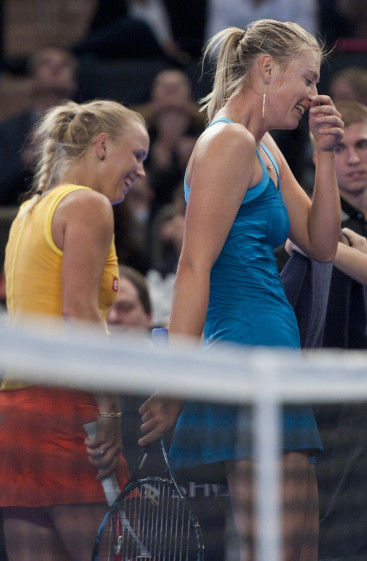 Wildcards are generally awarded to players who would not ordinarily make the draw because of their professional ranking. Often, they would be given to players local to the event, upcoming young players, or those who are most likely to sell tickets; and Sharapova is certainly likely to do so.
Prior to her much-publicised fall from grace, Sharapova was ranked 26th most highly paid athlete in the world by Forbes in 2015, earning considerably more than Serena Williams, then ranked 47th most highly paid, despite the Russian's significantly lower professional ranking.
In 2016 – the year in which Sharapova served her ban – Sharapova dropped to 88th most highly paid, compared to Williams' 40th, but still earned the same amount in endorsements as Williams at £20m ($24.34m).
Before her ban, Sharapova had an endorsement with Grand Prix tournament sponsors, Porsche, though it was suspended in the wake of the revelations.
Sharapova was banned in 2016 after it was revealed she had failed a drugs test at the Australian Open that year after taking the banned substance meldonium. Though Sharapova maintained she had not intended to cheat, rather she did not know the drug – which she said she had taken to treat a medical condition for a number of years – had recently been added to the World Anti-Doping Agency's banned substance list.