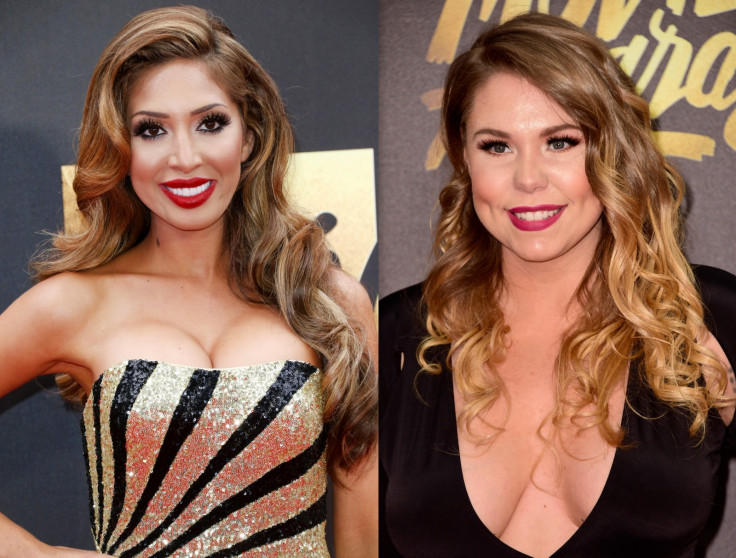 Kailyn Lowry's baby father's secret identity has been a topic of speculation ever since the Teen Mom 2 star revealed that she is pregnant with her third child and that the baby's father is neither ex-Jo Rivera or ex-Javi Marroquin.
Lowry's co-star Farrah Abraham has revealed that she knows who is father of the baby. She told HollywoodLife., "It's not a secret, look and you will know." Abraham's cryptic comment hints that the father maybe someone close to the MTV show.
There were also rumours that one of Teen Mom 2's producers named Larry could be the father of Kail's 3rd baby, but the 24-year old took to Twitter to put an end to such speculation. She tweeted: 'Omg you guys Larry is a producer. We were talking about how good Isaac is.'
Previously, a Radar Online report has alleged that the reality star's baby father is a "friend". The reality star's publicist, Casi Densmore-Koon, allegedly told the gossip website, "The father is a friend Kail was briefly dating. This was Kail's choice and she is 100% happy. Kail can't wait to welcome the new addition to her family this summer."
The representative added that as of now "we don't know how involved the father will be. Kail will release that information when she's ready."
Lowry have also been secretive about the new man in her life as in an interview with MTV when asked about the "mystery father" she said, "I'm not going to talk about that," and added that she's "not ready yet". The mother-of-two has 7-year-old Isaac with ex- Jo Rivera, and 3-year-old Lincoln with Javi.
The 24-year-old MTV star took to her blog to announce her pregnancy. She wrote, "I am pregnant. Please know this was a choice I made, I already know some won't agree but I've been showered with support by the ones I love since I found out. "
She added, "Why did I wait? I've had a lot of health complications leading up to this pregnancy and I was not ready to release such private information on my own just yet being that I am so high risk with this pregnancy. I didn't want to announce just to have another miscarriage and suffer through another grief."