James Corden was given perhaps his biggest vocal challenge yet when Adele joined him for his latest Carpool Karaoke segment. The British singer sat in the passenger seat and duetted with the comedian on some of her biggest singles while also taking on a Nicki Minaj rap and a trip down memory lane with the Spice Girls.
During the clip, which aired on The Late Late Show With James Corden, Adele, 27, and talkshow host Corden cruised through the streets of London and kicked off their singalong with a rendition of the diva's latest number one Hello, lifted from her third album 25. The pair then revisited Adele's most iconic single to date, Someone Like You, before turning up the tempo with the Spice Girls' track Wannabe.
Revealing herself to be a fan of the former girl group, which consisted of Victoria Beckham, Geri Halliwell, Mel B, Mel C and Emma Bunton, Adele told Corden: "It was a huge moment in my life when they came out and it was girl power... these five ordinary girls who did so well and just got out. I was like, 'I want to get out'.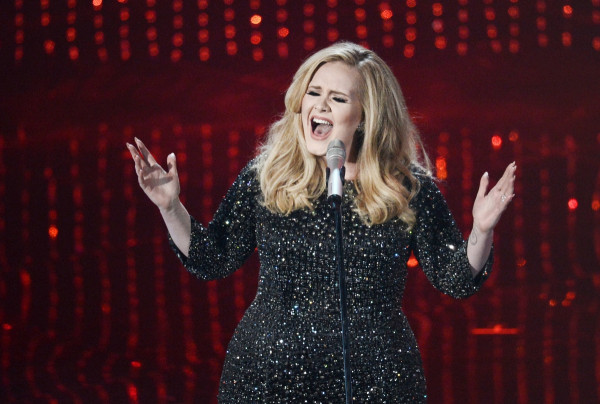 "I don't know what I wanted to get out of but I wanted to get out. It was a really important period of my life. I used to have [Spice Girls parties] on my own... I was always Geri but then she left. That was the first time I was truly heartbroken."
After belting out the ballad All I Ask from 25, Adele then debuted her rapping skills by delivering the notoriously difficult verse from Nicki Minaj on Kanye West's 2010 track Monster, even leaving Corden in shock at her latent talent.
Following a four-year break from the charts, Adele returned with 25 in November 2015 and has reclaimed her place as one of the biggest-selling artistes in music. Despite her prestige in the industry, Adele admits that she feared her new material would not be as well-received as her second album 21. Opening up to Corden, Adele explained: "I was worried about that for sure and I feel like it's gone well.
"I want my fans to come on a journey with me and that's one of the reasons why I name my albums after my age as well. They're sort of just polaroids almost of just my life at that time. This is the last album after my age. I believe in trilogies."
Adele is the latest musician to join Corden for a Carpool Karaoke with One Direction, Justin Bieber, Stevie Wonder and Mariah Carey among those to have appeared in the jolly car cruise.
Watch Adele and James Corden's Carpool Karaoke: