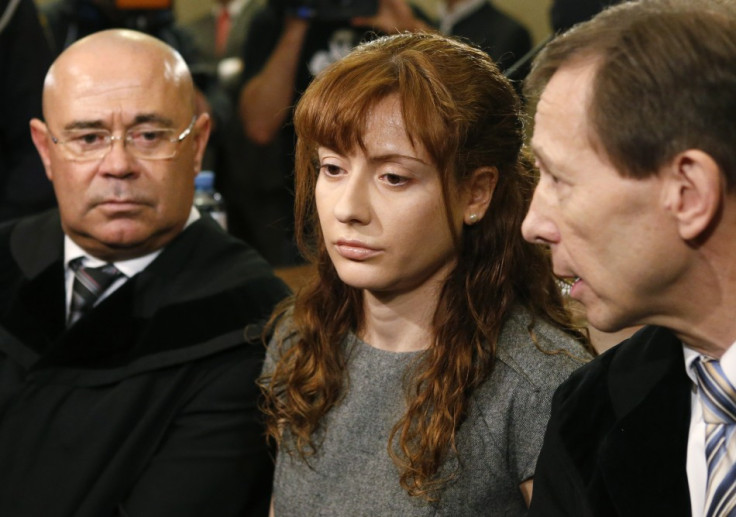 A woman accused of killing her husband and lover, chopping their bodies into pieces and burying them in concrete in her ice cream shop cellar has gone on trial.
Dubbed by Austrian media as the "Ice Lady", Goidsargi Estibaliz Carranza Zabala, 32, allegedly shot her husband, Holger Holz, twice in the back of the head in an when she revealed that she had a lover.
She then cut his body into pieces with a chainsaw and sealed it in concrete under her Schleckeria shop in Vienna, the court was told.
Two years later, in 2010, she discovered that her lover, Manfred Hinterberger, was involved with another woman.
Carranza allegedly shot Hinterberger four times in the head with a 22-calibre Beretta pistol while he slept, sliced up his body and buried the parts in concrete next to the remains of her husband.
She then booked an "urgent manicure appointment" to repair her nails damaged by the labour, the charge sheet read.
In June 2011 construction workers installing pipes in the building discovered the gruesome remains.
Carranza, then pregnant by a third man whom she later married, fled to Italy in a cab. After a few days on the run, she was arrested and extradited to Austria by Italian authorities.
Her child, who was born in January 2012, was taken from her by social services.
"This woman has two faces. She will try to play here the part of someone well-behaved, who would never do something like this. My task is to show you her other side - that she is a singularly cold-blooded and unscrupulous killer. Do not be fooled," prosecutor Petra Freh told the court in Vienna.
"The defence will argue for a sentence which corresponds to her crime and we don't want the jurors to base their verdict on the public image of an ice cold, insensitive and cold-blooded woman capable of anything. Rather, they should realise what lies behind this facade and then reach a verdict which takes into consideration the diminished criminal responsibility," defence lawyer Rudolf Mayer said before the trial started.