West Ham United co-owner David Gold has revealed a deal to bring Liverpool forward Andy Carroll to Upton Park this summer is on the brink of completion.
The Hammers are understood to have agreed a fee with Liverpool regarding the purchase of Carroll, who scored seven goals during a season-long loan spell in east London last season.
But Carroll's astronomical wage-demands of £100,000-a-week had worked to stall the completion of the deal, raising concerns over whether West Ham could financially support a deal manager Sam Allardyce had labelled at the club's No.1 priority in the summer transfer window.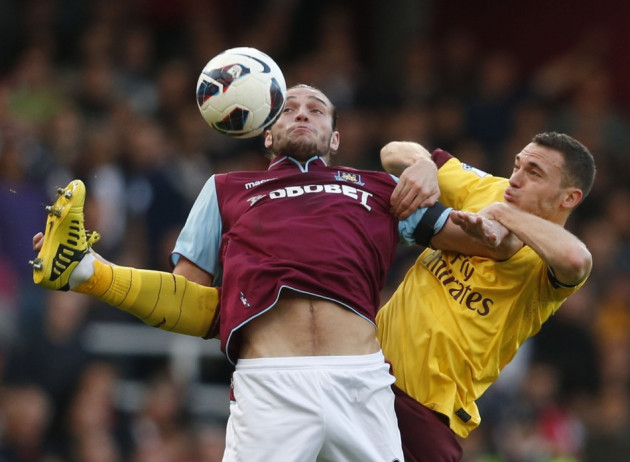 However, Gold said on Twitter on Tuesday: "The chances of AC [Andy Carroll] joining West Ham has risen from 50/50 to 75/25 in the last few hours. Will keep u posted.[sic]"
After joining from Newcastle United in January 2011, Carroll has endured an inauspicious spell at Anfield, scoring 11 goals in 18 months before joining West Ham on loan for the 2012/13 season.
Carroll failed to recapture the form of his latter days at Newcastle last season but finished the campaign with seven goals and four assists as West Ham finished 10th in the Premier League.
However, the 24 year old appears unlikely to return to Liverpool ahead of the new season, with the forward's 6ft 3in frame at odds with Brendan Rodgers' football philosophy, which suits nimble footwork rather than physicality.
Should he return to Liverpool, Carroll would potentially become a bit-part player next season, a far from ideal scenario with the 2014 World Cup in Brazil on the horizon.
Reds legend Robbie Fowler believes Carroll isn't part of Rodgers' long-term plans.
"I think with Andy Carroll, when he first came, he tried to play to the price tag," Fowler said. "That sounds a little bit silly but he was trying to drop off, beat men and do everything you would expect from a £35 million striker.
"He looked a much better player when he got to the nitty gritty. When he used his body and was a handful. No disrespect but, when he plays like a big lump and uses his elbows, he looks much better.
"I think Brendan Rodgers is the man to answer that one. Would I like to see him there? I think Liverpool need as many numbers in the squad as they can. The squad will probably be better with Carroll in it but I wouldn't say he would play many games."