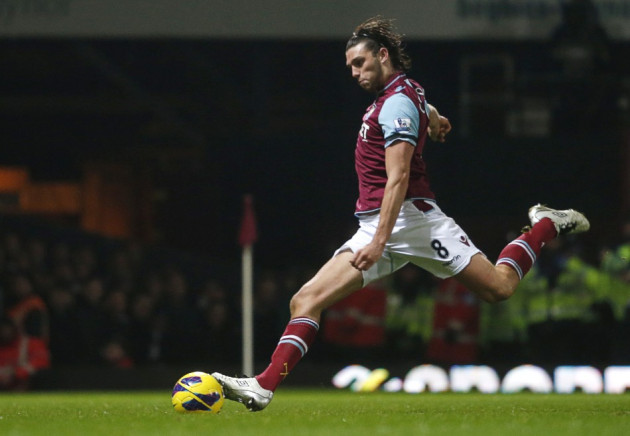 West Ham United have confirmed the signing of England striker Andy Carroll for a club record fee from Liverpool.
Carroll, who scored seven goals in 24 appearances on loan at Upton Park last season, has signed a six-year deal with the club with an option in place for a further two after passing a medical.
After a two-and-a-half year spell at Liverpool during which Carroll scored 11 goals for The Reds, the 24 year old reportedly becomes The Hammers' highest earning player after signing a contract worth £100,000-a-week.
The England international becomes manager Sam Allardyce's third signing of the summer, having already secured deals for Romanian defender Ravzan Rat and Spanish goalkeeper Adrian.
"It's fantastic for me to be here. I really enjoyed last season, and that shows in me coming back and making it permanent," said Carroll.
"The fans, the lads and the club itself has been great to me, and what I wanted to do was come back here and play football.
"Since the end of the season I've had a lot of time to think, I've missed it and that's why I'm back. Getting promoted the season before last, then finishing where we did - we did great, and it can only get better for us.
"The way the club's being run, obviously getting the new stadium and everything like that, it's only going up."
Liverpool are understood to have recouped an initial £15.5m of the original £35m they paid for Carroll in January 2011, which originally offset the sale of Fernando Torres to Chelsea.
The Anfield club received £2m in exchange for Carroll's loan to West Ham for the 2012/13 campaign and could earn the same amount due to contractual add ons.
Carroll helped West Ham to a 10th place finish in the Premier League last season, and with co-owner David Gold plotting a move for a second striker in the summer transfer window, the club's ambition suggests they have designs on attempting to return European football to east London in the immediate future.
While the move signifies yet another exciting move for West Ham, with the club recently confirmed as lease holders for the Olympic Stadium from August 2016, the club's £70m debt suggests the substantial investment comes with the caveat of financial uncertainty.