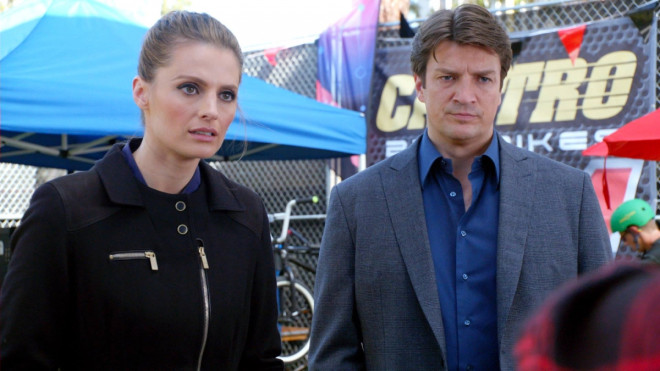 Kate Beckett and Rick Castle are ready to take vows in the finale of Castle Season 6 'For Better or Worse' but there is a slight problem. It appears that Beckett is already married and needs to get a divorce from her newly discovered legal husband.
Just three days before the wedding, Beckett is shocked to discover that she is already married for 15 years to a bartender, Rogan O'Leary.
And like Castle, she too needs to submit divorce papers in order to exchange wedding vows with Castle. She suspects the wedding happened when she had a drunken rendezvous with Rogan in Las Vegas.
But will she be able to get a divorce in three days to marry Castle? What will happen to the most awaited Castle-Beckett wedding?
These questions and more will be answered during the finale of ABC's police procedural drama which will air on 12 May.
Click here to watch the online live stream of Castle Season 6 finale titled 'For Better or Worse'.
You can also watch the episode online for free the very next day by clicking here.
Meanwhile, ABC has renewed Castle for a seventh season, which will premiere its first episode during the fall.
The official synopsis for Castle Season 6 finale reads:
"A secret investigation conducted by Beckett related to her mother's murder goes awry when a man she has been surveilling is killed. When evidence links Beckett to the victim, she and Castle become the targets of a manhunt that puts both of them in grave danger."
Castle Season 6 will air its finale on Monday, 12 May on ABC. Stay tuned.