The Confederation of British Industry has warned policy makers that they must ensure the benefits of growth are felt by all people as the UK housing shortage is costing consumers £4bn each year.
As part of CBI's manifesto, ahead of party conference season, the lobby group said that housing shortages have created above-inflation house price rises, which has resulted in £3.2bn (€4bn, $5.2bn) in housing-related costs and £770m in transport-related bills.
CBI also reiterated that this is a vast amount of cash that could have been better spent or saved in the wider economy and that there are a number of ways in which the government could alleviate the stress of people not getting onto the housing ladder.
"With conference season around the corner, we need all political parties to put forward election pledges which tackle the UK's challenges head-on so that we deliver prosperity for everyone not just from next May, but for a generation. Addressing the chronic housing shortage should be near the top of every party's to-do list," said Katja Hall, CBI Deputy Director-General.
"A perfect storm is brewing in the housing market. With demographic changes and demand currently dramatically outstripping supply, now is the time for action. Political parties of all colours have made the right noises on the need for more homes, but without serious action the ambition to own a home will become more and more out of reach to ordinary people.
"We need a stronger response from politicians who must be ready to take bold decisions from building on low quality green belt land to overhauling Stamp Duty [Figure 1]."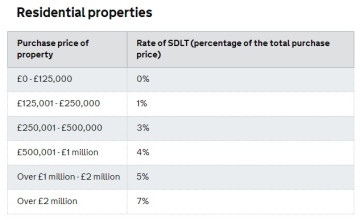 CBI reports that 240,000 new homes need to be built per year to sate current levels of demand but over 200,000 homes have been delivered in only four out of the last 14 years.
In 2010, fewer houses were built than in any year since the Second World War.
The chronic shortage of supply and increasing demand has meant home prices, on average, have rocketed by 56% nationally since 2004, with a 90% increase in London.
CBI's report, which is part of its manifesto outlining the business vision for a better Britain and the measures needed to help unleash the potential in the private-sector to drive economic growth, recommends several measures.
These include the development of 10 new towns and garden cities by 2025, doubling the number of new homes currently built, to 240,000 a year and reforming Stamp Duty to end "its distortive impact on the housing market."