CCTV shows furious parent mowing down teacher in front of children on the school run
Rainier Schoeman was picking his partner's child up when he was told he could not use the staff car park.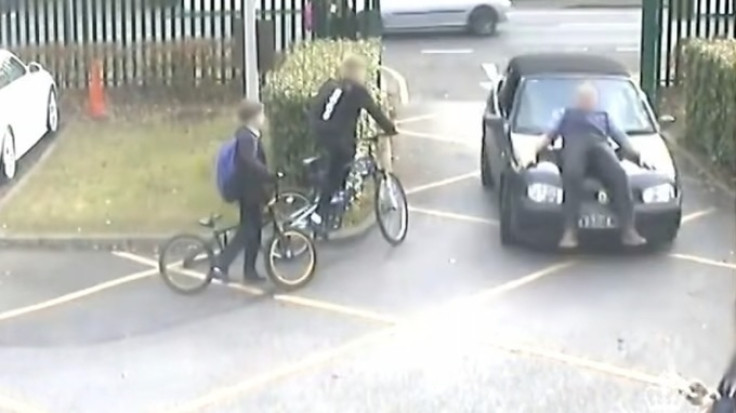 An enraged parent who purposely mowed down a teacher as he picked up his partner's daughter from school was today jailed for 10 months.
Rainier Schoeman almost hit two children when he drove straight at teacher Gareth McCarthy who was furious that he could not use the staff car park at The Winston Churchill School, in Woking, Surrey.
The 22-year-old was seen by CCTV driving through the school gates at 3pm on 20 February with the terrified teacher on his bonnet before he was flung through the air.
Schoeman was jailed following a hearing at Guildford Crown Court on Friday (22 September), after pleading guilty to causing actual bodily harm, dangerous driving, driving without insurance and having no MOT.
Footage released by Surrey Police shows Schoeman trying to drive into the school grounds in his Volkswagen, with his partner's nine-year-old daughter in the back.
The court heard that on a previous occasion Schoeman had driven past McCarthy and a letter had been sent to parents warning that driving in the staff car park was prohibited due to the risk to children.
The vehicle is seen being stopped by McCarthy with the teacher telling the car to move on before the vehicle accelerates as McCarthy turns around.
The car almost knocked two children off their bikes as it turned and McCarthy fell off leaving him with head wounds that needed to be glued.
The court heard McCarthy describe Schoeman as a "selfish, brutish bully" reported the Daily Mail.
Headteacher Zoe Johnson-Walker said: "This was a shocking, extraordinary incident, which has had an impact on the teacher and the rest of my staff.
"It is regrettable that an individual has chosen to behave with such a blatant disregard for someone simply doing their job in trying to keep our students safe."
Schoeman was handed a 10-month prison sentence, with a two year and five month disqualification from driving, followed by an extended test.
He was also ordered Schoeman to pay a victim surcharge of £140.
Judge Jonathan Davies said: "It troubles me to hear from Probation that some how you seek to blame Gareth McCarthy for what happened. He was going about his work and the school had every right to restrict access to this car park.
"You took matters into your own hands by nudging him. it's horrific watching the video with his head banging on the concrete."
He continued: "It was one moment of madness. Of rage. You really need to examine yourself and ask why you behaved in that way."
© Copyright IBTimes 2023. All rights reserved.