A string of celebrities have joined forces with the Duke and Duchess of Cambridge and Prince Harry in support of their Heads Together campaign to raise awareness of mental health issues.
Former England cricket captain Andrew Flintoff, rapper Professor Green, weather forecaster Sian Williams, former Labour spin doctor Alaistair Campbell, news reader Mark Austin and comic Ruby Wax have all in the past spoken publicly of their personal struggles to cope with problems such as anxiety and depression.
Teaming up with the young royals, the celebrities have appeared in a series of 10 videos in which they speak candidly of their battles to cope with debilitating mental health conditions.
Flintoff and Professor Green explain that coming from working class families, there was little encouragement to share their emotions. "We never had those conversations" says Flintoff.
In one film, Green recounts how terrified he was about being seen at his "most vulnerable" when he broke down while speaking about his father's suicide during the filming of a documentary.
However, he says that he later recognised that opening up about his ordeal helped him on his path to healing.
"It's weird that this [crying] happened for the first time on camera," he reflects. " That conversation changed everything. Because it was out in the open. And I could speak to my friends about it."
Encouraging young people to express their feelings, the pair go on to explain that talking about your problems is the beginning of dealing with them.
Speaking to her husband, Ed Bye, Ruby Wax reveals that the first time she confided with him that she suffered with mental health problems was on their wedding day.
"And then we never spoke about it again," she admits. Speaking about being hospitalised, she adds: "I'm only relieved when I am with other people who have mental illness ... we have this understanding and that's the healing."
The videos also feature ordinary people, including a pair of paramedics who discuss the effect of their day-to-day experiences on the job on their mental health.
The videos, directed by renowned filmmakers such as My Beautiful Launderette creator Stephen Frears, were commissioned by the royals in a bid to encourage the public to talk about the issues that affect them in a bid to remove the stigma attached to mental health issues.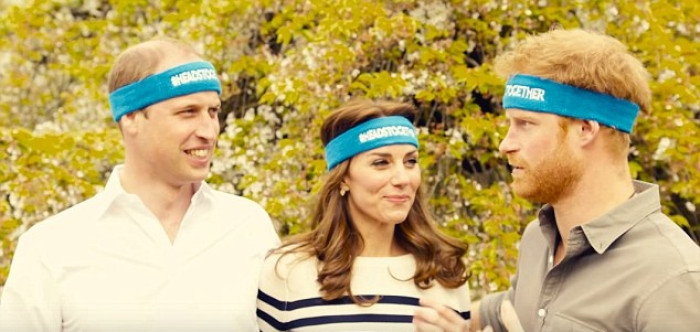 In a statement, Prince William, Kate and Prince Harry said: "Since we launched Heads Together last May, we have seen time and time again that shattering stigma on mental health starts with simple conversations.
"When you realise that mental health problems affect your friends, neighbours, children and spouses, the walls of judgment and prejudice around these issues begin to fall.
"And we all know that you cannot resolve a mental health issue by staying silent. Attitudes to mental health are at a tipping point. We hope these films show people how simple conversations can change the direction of an entire life."
Posting the videos on the Kensington Palace Twitter page with the hashtag #OKtosay, the Duke and Duchess and Prince Harry added: "Please share these films with your friends and families and join us in a national conversation on mental health in the weeks ahead."