Kate Middleton and Prince William opened up about their own worries for their children as they visited a helpline for parents run in London by the charity YoungMinds. The couple, who have been championing mental health awareness for the youth, were visiting the charity as part of their Heads Together campaign.
As they manned the phone lines listening in to calls from parents worried about their children, both Kate and William shared their own concerns. William gave an honest insight into his own emotional state as he revealed he is affected by the heart-breaking stories he hears.
The Duke of Cambridge said that in his job as an Air Ambulance pilot he frequently witnesses the personal tragedies of people and was 'carrying too many things at the moment'.
Just a day after he comforted a 14-year-old boy who had lost his mother, the Prince asked that he be spared from listening to any distressing stories for fears he would be left 'in floods of tears'.
"Can I have an easy one please? I'm carrying a lot of things at the moment. I will be in floods of tears at the end otherwise. I've had too many sad families with the Air Ambulance. I can't deal with any more stuff. Just maybe at the lower level, if I can. I'm steeling myself the best I can," he added.
The couple met with some of the volunteers who revealed that they were receiving a high number of calls relating to self-harm as many teenagers were adversely affected by their exam results.
Mrs Saida Tahir, 46, a special needs teacher from Hampton who started volunteering after a family member was diagnosed with depression and anxiety, said: "It's GCSE results day today, A level results last week, so we were prepared [for] lots of anxiety levels.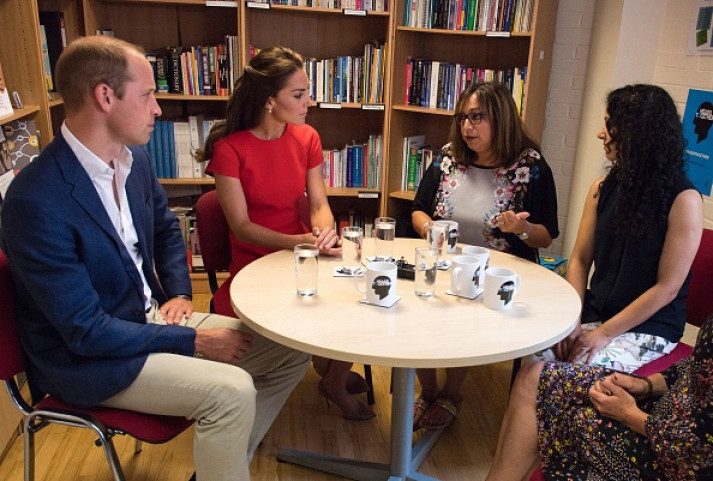 "This brings memories back, [William] was saying, of his own exams - which is great, because he remembers what it was like for himself, and the anxiety that he went through."
After witnessing the support that the Young Minds helpline provides to parents of children suffering from mental health problems, Prince William said: "I found it very eye-opening. I thought the service was fantastic.
"I think the idea that you've got these very caring, lovely people on the end of the phone who listen for as long as they need to, to build the picture of what is going on, and then provide extremely good advice - and then the fact that you've got the mental health professionals later down the line if necessary.
"I think that is a really good balance of getting the right support straight to these families who are clearly at their wits' end at what to do, and reaching out. Thank goodness they do reach out to something like this. I think it is fantastic."
The Duchess told chief executive Sarah Brennan that as a mother-of-two, she could empathise with the parents. "William and I found it absolutely fascinating, from hearing the case study and also taking the calls," she said.
"What we've taken away is just how normal it is. We are parents ourselves, I am sure we will face worries - we do face worries, because we've got small young children. If those worries escalate, how vital it is to get support - and you are providing that support.
"As a parent and as a mother, having that feeling that there is somebody there that is non-judgemental, that can provide the professional support, and that can really provide helping hand at a really difficult time."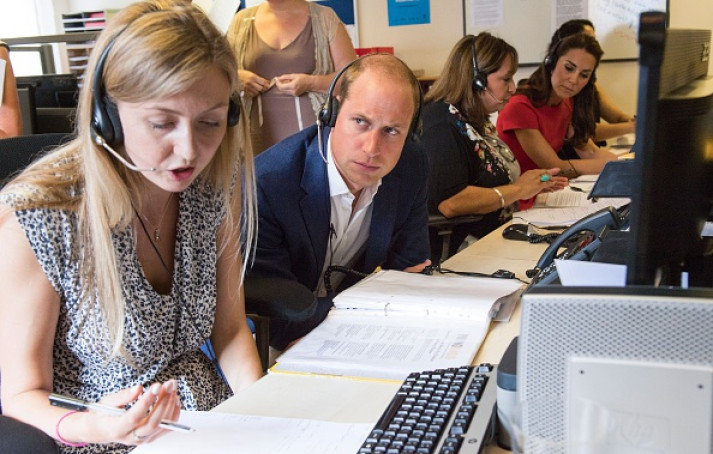 William urged parents struggling to cope to seek support. "It is important that parents understand that you can't be brilliant at everything," he explained. "It is totally fine to talk about it and to seek help and to speak out, because we're not all superheroes.
"There is a lot of pressure on parents, and most of it is self-made by parents themselves, where you feel you have to be able to handle everything. You have to show strength and resilience to everything. But there are some times when it all gets too much and you need to reach out, and that's totally fine."
According to Mail Online, a spokesman for YoungMinds said the Duke and Duchess's brief introduction to the volunteers training will help them to gain a better understanding of what callers will experience if they contact the helpline.
This visit is an opportunity to dispel some of the myths surrounding helplines by profiling the kind of people who will be at the end of the line as well as well as the types of questions and responses people can expect if they call.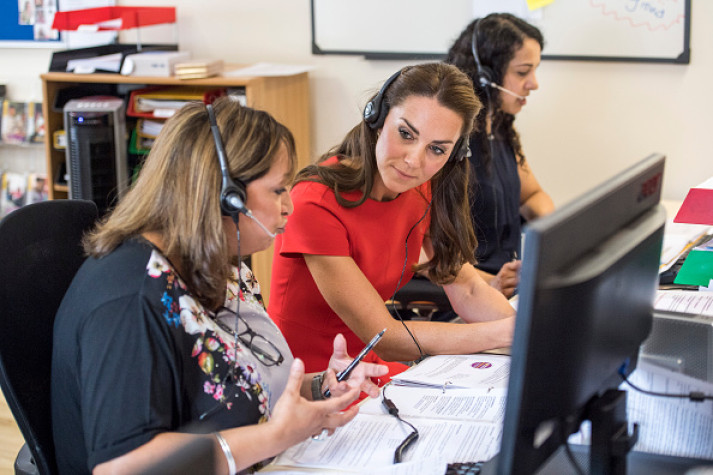 "Through the Heads Together campaign, Their Royal Highnesses are keen to build on the great work that is already taking place across the country, to ensure that people feel comfortable with their everyday mental wellbeing, feel able to support their friends and families through difficult times, and that stigma no longer prevents people getting help they need."
After the royal visit, YoungMinds tweeted: "We're delighted that the Duke and Duchess of Cambridge came to visit our Parents' Helpline today to learn more about the work we do!"
Heads Together also tweeted: "To see what happens when ppl reach out for support The Duke & Duchess of Cambridge visited the @YoungMinds ParentLine."
If you're worried about any young person's mental or emotional health, call the YoungMinds helpline on 0808 802 5544.