Prince William, Kate Middleton and Prince Harry could not hide their amusement when they each donned head bands in support of a mental health charity. The young royals sportingly donned the 80s' fashion accessory to record a video to support the Heads Together runners participating in the London Marathon.
The video was filmed in the gardens at Kensington Palace three days before its release on marathon day on Sunday (24 April) to highlight the work of the charity that aims to change attitudes towards mental health.
Revealing their shared sense of humour, the trio appeared to tease one another about the less than flattering style statement, with Prince Harry keen to capture his brother's new look on his mobile phone.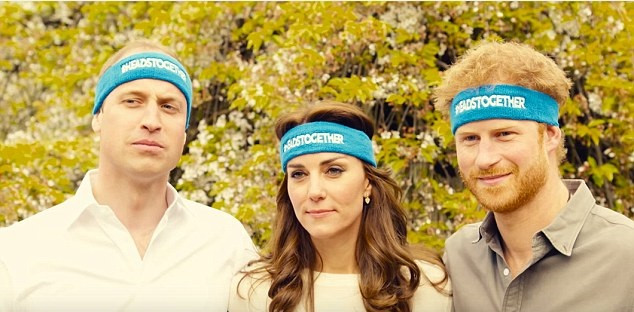 Kate struggled to keep a straight face for the official photo and after some prompting by William, who told them: "Let's do a serious one", they managed to hold it together for a moment, but fell about in giggles again as soon as the photo was taken.
In the video, the Duchess, who was dressed down in a Breton top and skinny jeans, said: "Mental health is just as important as physical health." Prince Harry added: "We can all play our part by talking and listening to each other and helping each other find support." "Let's get our heads together and change the conversation on mental health," said Prince William.
The Heads Together campaign is the 2017 Virgin Money London Marathon Charity of the Year and aims to change the national conversation on mental wellbeing in partnership with various mental health charities including Place 2 Be. It is the largest campaign that has seen William, Kate and Harry join forces.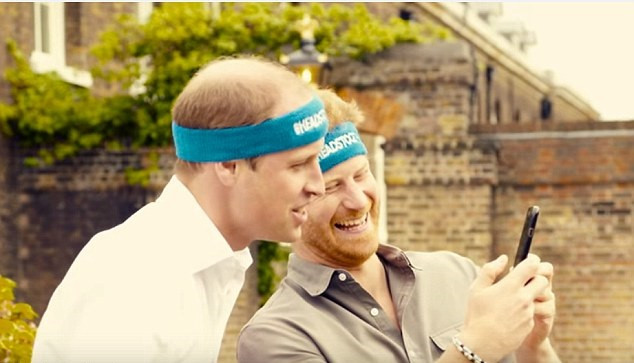 The Duchess who is patron of Place 2 Be has demonstrated her personal commitment to creating awareness of mental health issues among young people.
Prince Harry, who is royal Patron of The London Marathon Charitable Trust put on his running shoes to race some of the schoolchildren who took part in the Mini London Marathon this morning. The young royal presented the winners with their trophies and posed with them after they completed the three mile (4.8km) event.
A spokesman for William, Kate and Harry, who on Friday (22 April) had a private dinner with President Obama and First lady Michelle Obama, told Mail Online: "Through their work with young people, emergency response, homeless charities, and with veterans, their royal highnesses have seen time and time again that unresolved mental health problems lie at the heart of some of our greatest social challenges.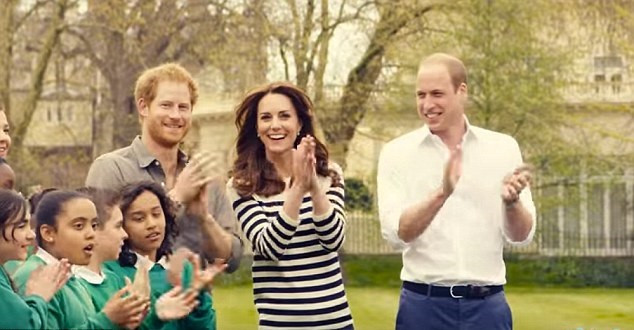 "They are passionate about tackling the stigma surrounding the issue. Too often, they have seen that people feel afraid to admit that they are struggling with their mental health. This fear of prejudice and judgment stops people from getting help and can destroy families and end lives. They want to help change the national conversation.
"They want the Heads Together campaign to build on the great work that is already being done across the country so that prejudice and fear no longer stand in the way of people getting the help they need," he added. "They want people to feel much more comfortable with their everyday mental wellbeing and have the practical tools to support their friends and family."
The team of charity partners working on Heads Together includes Best Beginnings, CALM - The Campaign Against Living Miserably, Contact (a military mental health coalition), Mind, Place2Be, The Mix and YoungMinds.