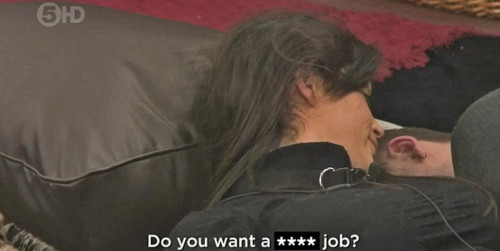 For weeks Celebrity Big Brother viewers watched Lee Ryan's love triangle with US actress Jasmine Waltz and Page 3 model Casey Batchelor play out on screen.
And following Waltz's departure for the house, it's not surprising that the Blue singer and Batchelor have stepped their flirting up a notch.
On Tuesday night's show, the brunette jokingly offering Ryan oral sex.
While cuddling in the house dog kennel as part of a CBB task, Batchelor apologised for resting her breasts on his chest before confessing to Towie star Sam: "I woke up really horny this morning."
She then indicated that she had had one too many glasses of vino before offering Ryan the sexual favour.
"Do you want a b*****?" she said."We'll call it a treatment, do you want some treatment?"
A cheeky Ryan replied: "A proper treat, as a doggy treat if I had a new one."
"I'll give you a doggy treat. That's our code name," she responded smiling.
He then insisted that the treat would send him "straight off to sleep".
Although Ryan appeared to enjoy their tactile exchange, fans expressed their disappointment that she was hopping back into bed with the love rat.
What a difference a day and an eviction makes in the Big Brother house.