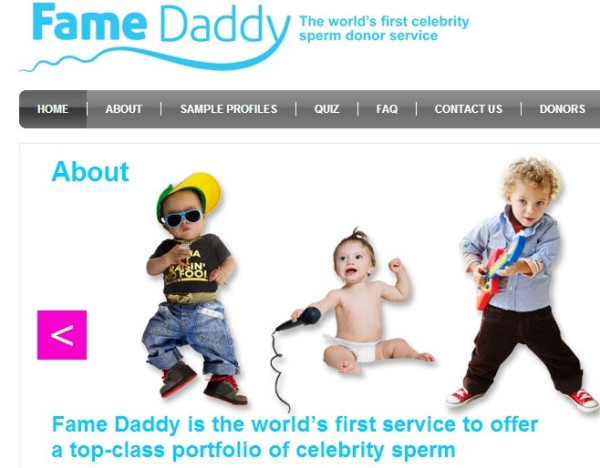 A new sperm donor service offering celebrity-obsessed women the chance to have a child with a famous high achiever is coming to London.
Fame Daddy claims that would-be-mothers can have their pick from its roster of sperm donors which it says includes footballers, actors, rock stars and men from privileged backgrounds.
Fees for the premium sperm donor service start at £15,000. The clinic will be launched in February.
The clinic's website insists that the service, said to be the first of its kind, is the ideal way for prospective parents to give their child "a head start in life" by using sperm from "a proven winner".
Although the identities of the celebrity fathers are kept secret, potential mothers using the Fame Daddy clinic will be able to find out their area of achievement and other personal attributes.
The company's cief executive Dan Richards said: "We have about 40 people on our register of interested donors. Of course, until we have premises we cannot store sperm and therefore we have no actual samples. I am confident most of these [men] will donate once we are operational."
The clinic's website also lists a range of "sample profiles" including an Oscar-winning actor worth £10m, a member of the House of Lords and an ex-Premiership League footballer. Richards admitted that the clinic's online descriptions were merely examples of the type of donors the company "intends to attract".
"What we are selling is the sperm of people who are successful, who have risen to the top of their field.
"Our aim is to provide excellent levels of medical care in a supportive and nurturing environment. We will offer a range of top-quality celebrity surrogate fathers whose contributions are exclusively available at our fertility clinic.
"Whether it is talent on the stage or pitch, having a world-beating voice, or just being very beautiful, Fame Daddy will have the perfect celebrity surrogate daddy."
The company insisted that the list of possible donors includes a retired ATP tennis pro, a former English cricketer and a multi-platinum-selling recording artist.
"Our vision is to help women give their children the very best chance in life," he added.
"To be able to harvest potential from the global gene pool, rather than from the more limited selection of the men she comes into direct contact with, is a major evolutionary leap for women."