Celebrity Ice Bucket Challenge: Justin Bieber, Oprah Winfrey, Rita Ora, Jennifer Lopez, Bill Gates and Cara Delevingne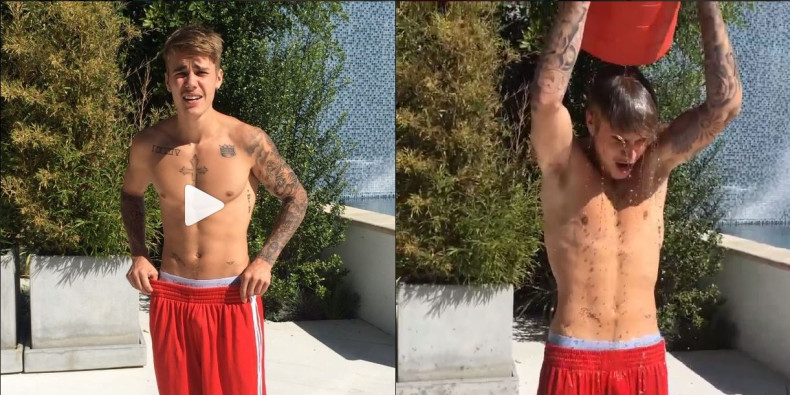 In the latest social media craze sweeping the world, celebrities from Justin Bieber, Cara Delevinge to Oprah Winfrey and Bill Gates are queuing up to douse themselves with freezing water and ice cubes.
The Ice Bucket Challenge, which sees celebrities drenched in the chilly mixture is backed by the ALS Association.
Enthusiasts can take part in the challenge within 24 hours and donate $10, but if they don't want to take part they are given the chance to donate at least $100 to an ALS charity of their choice.
This new trend aims to raise money for sufferers of neurodegenerative illness Amyotrophic lateral sclerosis, otherwise known as Motor Neurone Disease or Lou Gehrig's Disease. The ALS Association recently announced that they have received a staggering $13.3 million (£8m) in donations from over 250,000 people in just three weeks thanks to the awareness-raising stunt.
IBTimes UK took a look at some of the celebrities brave enough to have completed the ice bucket challenge and their reactions ...
Justin Bieber
Justin Bieber dumps a small saucepan of water over his head in aid of the challenge but then the ice cubes were not nearly enough for the chill-effect.
Jennifer Lopez and Iggy Azalea
Jennifer Lopez shivers after having a full bucket of the icy concoction thrown at her and her young twins Max and Emme can be seen throwing additional buckets of water at their famous mum. The Latina star nominated rapper Iggy Azalea who willingly takes on the challenge while sporting a tangerine bikini.
Rita Ora
The singer bravely participates in the challenge in the middle of a busy New York street and can be seen jumping up and down after being completely doused in the freezing water.
Oprah Winfrey
The former talkshow host can be seen writhing from side to side after the chilly water is thrown over her head by best friend Gail King.
Bill Gates
The Microsoft pioneer invented his own impressive contraption to complete the challenge. It delivered shower-like proportions of water from his lake over his head. Ever the professional, he wore a crisp blue shirt and looked unfazed by being drenched in the chilly water.
Tyler Perry
The film director tips the bucket over his head and can then be seen going for a celebratory paddle in his swimming pool.
Cara Delevingne
The supermodel gives a little shimmy as she is drenched in cold water and then runs around shaking the icy water off before giving her friend a wet hug.