A giant rabbit, with potential to become the largest in the world, mysteriously died on a United Airlines flight to the US, where its new celebrity owner was awaiting its arrival.
It is the latest PR disaster to hit the airline, which attracted universal criticism earlier this month when employees were filmed violently dragging a doctor off a plane , knocking out his teeth and concussing him.
The 3ft bunny rabbit, Simon, was put aboard a Boeing 737 from London to Chicago where he was to meet his new owner – a famous celebrity, according to breeder Annette Edwards.
But Simon was found dead in the cargo-hold on arrival.
Edwards, 65, from Worcestershire, told the newspaper Simon's mid-air death was a mystery to her.
"He was as fit as a fiddle. I've sent rabbits around the world before and nothing like this happened. Simon had a vet's check-up three hours before the flight," she said.
"Something very strange has happened and I want to know what. I've sent rabbits all around the world and nothing like this has happened before. The client who bought Simon is very famous. He's upset."
Simon's father, Daruius, is the world's largest rabbit at 4ft 4in. Simon was expected to surpass this size. Giant rabbits typically live for four to five years.
In a statement sent to the BBC, United Airlines, said: "We were saddened to hear this news. The safety and well-being of all the animals that travel with us is of the utmost importance to United Airlines and our PetSafe team.
"We have been in contact with our customer and have offered assistance. We are reviewing this matter."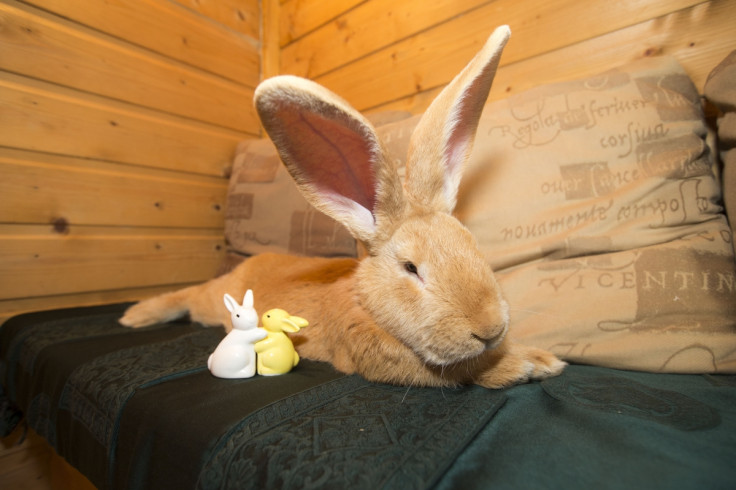 Another low for United Airlines
Simon's fatal journey was from London Heathrow to Chicago's O'Hare airport – the scene of the now infamous moment Dr David Dao was injured by United Airlines employees while they dragged him from an overbooked flight.
Dao's lawyer told a press conference earlier this month that the Vietnamese-born man will be suing the airline after he needed reconstructive surgery on his face.
A fresh scandal engulfed the airline days ago, on 22 April, after footage emerged of a United employee reducing a mother to tears and challenging another passenger to a fight.