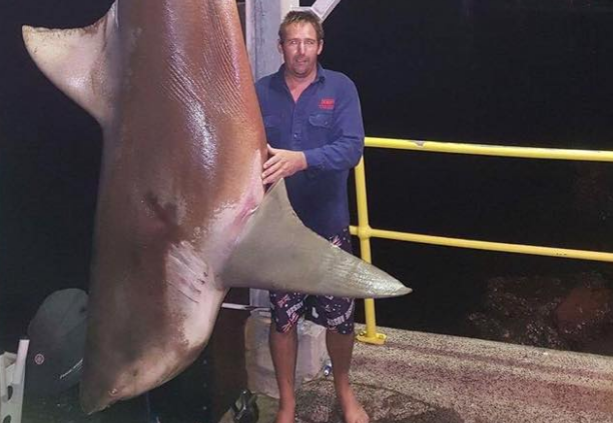 An enormous bull shark caught off the coast of New South Wales, Australia, has become a social media sensation and ignited a debate about the ethics of shark fishing.
A picture of the dead shark hung vertically at a cleaning station on the Swansea Channel, near Lake Macquarie, shows the impressive fish to be more than double the size of an adult man.
It was uploaded yesterday (24 April) to the Offshore Fishing NSW Facebook page, a community of fisherman in the region.
"Just got sent this from Swansea Channel two nights ago right off the cleaning tables at Blacksmith a solid Bull Shark," the post read. "It ended up dead after being gut hooked and a huge fight. There must be plenty around," it added.
Gut hooking occurs when the fisherman's hook catches deep inside an animal's throat or gut. It can cause severe damage to a creature and may make any plan to release it back into the sea untenable.
In just 22 hours, the post has been shared more than 3,000 times. Many critics of shark fishing took the opportunity to voice their concerns in the comments section underneath the photo while fisherman responded by defending the practice.
Some people had other concerns. Facebook user Chris Wright wrote: "If it was a tuna or a marlin no one would give a s**t !!! So sick of all the shark huggers these days."