The world's oldest person has put her longevity down to a diet of sushi, eating three big meals per day and sleeping for at least eight hours every day.
Speaking to the Telegraph, Misao Okawa, from Japan, said: "Eat and sleep and you will live a long time. You have to learn to relax."
Okawa is now 116 years old. She was born in Osaka in 1898, when Queen Victoria was still on the throne.
Tomohito Okada, head of the Kurenai retirement home where she has lived for the last 18 years, explained the centenarian's lifestyle by saying: "Mrs Okawa eats three large meals a day and makes sure that she sleeps eight hours a night.
"She insists that her favourite meal is sushi, particularly mackerel on vinegar-steamed rice, and she has it at least once every month."
But what foods and lifestyles have other record-breaking people attributed their long lives to?
Carmelo Laura
Bolivian Herder Carmelo Laura is believed to be 123 years old, although it cannot be verified as there were no birth certificates in Bolivia until 1940. Laura lives in a straw-roofed dirt-floor hut in Frasquia near Lake Titicaca.
He said he walks a lot and does not eat noodles or rice. He said he has chewed coca all his life and mostly eats barley and mutton, although he enjoys pork when it is available.
Gertrude Baines
Born 1894, Gertrude Baines put her long life down to two foods most would consider a fast way to the grave – bacon and sweets. Speaking to People magazine, hospital administrator Emma Camanag spoke about what Baines wanted for her 115th birthday: "She said she didn't care what kind of cake or ice cream we got her, that she would eat anything. She's a sweet lady."
Premsai Patel
Premsai Patel, born 1896, claims to be the world's oldest living man. According to the Times of India, he attributes his long life to a diet of green vegetables and pulses. He now lives in the Tilhapatai village of Korba district and has led a simple life. He says he has been a vegetarian all his life and starts every day reciting Ramcharitmanas.
Antisa Khvichava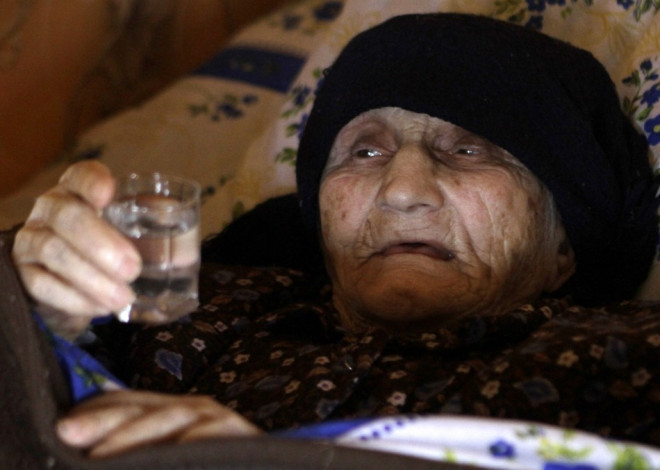 Georgian Antisa Khvichava claimed to be the oldest living person before dying aged 132 in 2012. She lived in the small village of Sachino and put her old age down to a daily shot of chacha, a spirit known as Georgian vodka or wine. She said she had a shot every morning after breakfast.
Jiroemon Kimura
Japanese Jiroemon Kimura was born in 1897 and is the Guinness World Record holder for being the oldest man to have ever lives. He died in June last year. Before his death, he said he managed to live to this grand old age through sunlight and only eating until he was 80% full, the Daily Mail reports. He ate three meals a day of a diet consisting of rice, pumpkins and sweet potatoes. He did not smoke and his life motto was "to eat light and live long".