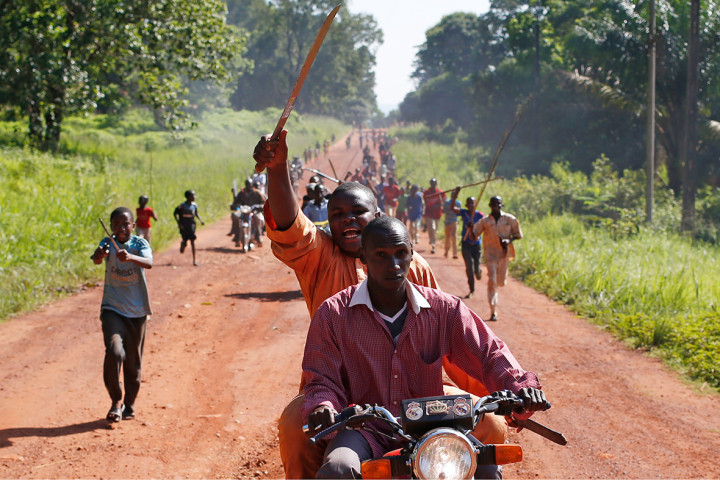 Dozens of refugees who took shelter in a cathedral in the Central African Republic (CAR) town of Bambari have been killed by Muslim fighters in a revenge attack, according to the Catholic Church.
Armed Muslim fighters - known as Seleka - and civilians entered St. Joseph's Cathedral on Monday (July 7) at 3pm (2pm GMT) and started killing people, church officials told Reuters.
The cathedral houses between 4,000 and 6,000 civilians, mainly Christians, who have fled their houses as the country's sectarian conflict continues to claim lives.
The armed men were looking for Christian militiamen, known as anti-balaka or anti-machete, who were believed to be hiding in the church.
Bambari - 236 miles north-east of the Central African Republic's capital Bangui - is home to the military headquarters of the Seleka.
A spokesman for the militants said his group had been attacked by anti-balaka fighters in a majority Muslim neighbourhood and a Muslim civilian had been killed during the fighting.
"All we did was retaliate," said Ahmat Negad.
According to Reverend Jesus Martial Dembele, vicar general for the archdiocese of Bangui, the exact death toll is still unknown.
"Many people have been killed. As I'm speaking to you, they are still there," he said.
Dembele accused the 2,000 French troops in CAR of failing to halt the bloodshed. But a French military spokesman said they intervened at 4pm (3pm GMT) on Monday afternoon.
The attack took place one day ahead of a planned visit to the town by French Defence Minister Jean-Yves Le Drian.
Following the attack, Le Drian said: "To avoid clashes between groups that seek only hatred and vengeance, these groups must accept a peace process, accept a ceasefire."
The church massacre is the latest in a series of violent clashes in CAR, where Christians and Muslims have engaged in tit-for-tat violence since last December.