Two Christian hostages captured after violence between Muslims and Christians broke out on Monday have been publicly executed in Central African Republic.
The execution is only the latest brutality committed in CAR, where so-called Anti-Balaka Christians and Muslim Seleka engaged in tit-for-tat violence have claimed thousands of lives.
The latest eruption of violence broke out as a group of Muslims, who were returning to the town of Bambari clashed with Christians who tried to block their way into the town - a Seleka stronghold.
The Seleka fighters were returning to the town after raiding a village where two Muslim herders had been previously killed.
Seleka fighters took four people Christians hostage following the clash, local journalist Jean Nono told Reuters.
"Two of the four hostages were publicly executed in front of many people on Tuesday in front of Bambari's court of appeals, which is currently the headquarters of Seleka," Nono, who witnessed the executions, said.
The Red Cross officials said 21 people were killed and nearly 130 homes destroyed in the two days of violence.
CAR's President Catherine Samba-Panza said she had sent a request to the International Criminal Court (ICC) to open an investigation into crimes committed during the inter-communal violence in her country since mid-2012.
The ICC announced in February it was launching a preliminary investigation for war crimes committed since September 2012.
"The Central African courts are not in a position to carry out the necessary investigations and proceedings efficiently, and consequently, the International Criminal Court's intervention now appears essential," ICC Prosecutor Fatou Bensouda said.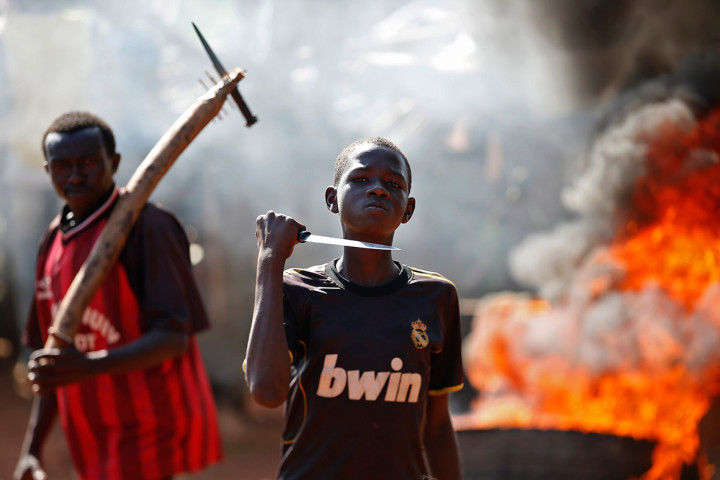 CAR CONFLICT FACTBOX
The CAR conflict has pitted Muslim Seleka forces against Christian Anti-Balaka militias following the overthrow of former president Francois Bozize, a Christian, by Michel Djotodia, a Muslim.
The two warring factions have engaged in tit-for-tat violence that has resulted in more than 2,000 deaths and hundreds of thousands of displacements.
Following months of fighting, Djotodia resigned, accused by many of being unable to halt the conflict. He was substituted by Catherine Samba-Panza, who is seen as politically neutral.
The brutal ethnic cleansing has been strongly condemned by several NGOs.
A UN humanitarian official has warned against the risk of genocide as the conflict "has all the elements that we have seen elsewhere, in places like Rwanda and Bosnia".
Amnesty International has accused peacekeepers of failing to prevent the conflict.
About 20 Congolese peacekeepers from the African Union-led peacekeeping mission (MISCA) have been also accused by Human Rights Watch of allegedly abducting at least 11 civilians.
In the meantime, CAR government banned the use of text messages after SMS were used to call for a general strike in the country.
Some 8,000 African troops and 2,000 French troops are currently trying to quell the fighting.